CyclingRevealed's First Impressions '08
Stage 18 - (Thursday) July 24th, Bourg d'Oisans to Saint Etienne, 196.5 km Rolling Stage
A Head-Banger Special!
The last time a Tour road stage starting in Bourg d'Oisans finished in Saint Etienne was 1999. Famous for his long and mostly unsuccessful escapes, Belgium 's Ludo Dierckxsens made this one stick and it became his most famous victory. Ludo was the ultimate Belgian hard man and head-banger "par excellance ". One story has it that his mother endured three months of labor because he was born with a chainring around his head!

1999: Ludo Dierckxsens celebrates winning TdF Stage 19 [Images from Archive]
Not only in this Tour, but wherever he races, the great Jens Voigt embodies the spirit of Dierckxsens. Voigt has achieved far more racing success than the mighty Ludo ever did, but as we have seen during most of this Tour, Jens can hurt himself for very long spells. While his face may be a mask of pain it s nothing to the agony that he is inflicting on those trying to hang on to him.
Designed for Head-Bangers
With the Alps behind them, the Tour now makes its way up to Paris . If anyone had any strength left after being dragged around the Alpine passes at insane speeds by Team CSC, then today was the perfect day to grab some glory. With three climbs (one each: Cat 3, Cat 2, and Cat 4), this rolling stage was tailor made for hard men like Voigt.
Sadly Jens will probably not be allowed to strike out on his own. His duty, as with the rest of the CSC team, is to protect the race leadership of Carlos Sastre. Consequently a well constructed break will take the day.
Over 54kmph!
Once again the race set out at full speed. In the first hour over 54kms were covered. A lot of riders wanted to be the chosen one today. Various groups splintered off of the front and eventually Carlos Barredo (Quick Step) found himself alone in the lead. At 80kms Barredo's chances of reaching Saint Etienne ahead of the field vastly improved when Team Columbia's Marcus Burghardt bridged up to the lone leader.
Barredo and Burghardt are both hard-men worthy of the "head-banger" title. Together they worked diligently to consolidate their lead. With 115kms to go they had nearly 5 minutes on the peloton and 4 minutes on a small chase group.
A somewhat lethargic peloton enabled the two leaders to extend their lead to over 11 minutes with about 90kms to go. However this was enough and within 10kms the peloton quickly shaved 2 minutes off the lead. This did not phase the two leaders and for the rest of the race they held their advantage until the finish where Burghardt took the sprint win from an extremely upset Barredo about 7 minutes ahead of the peloton.
Silly Buggers
For the final 10 kms the stage looked more like a track race. Having co-operated beautifully throughout the day, Burghardt and Barredo suddenly became mortal enemies. Time and time again they attacked each other diving from one side of the road to the other as if going up the banking on a track. Both of their team cars came up beside their rider no doubt telling them to stop playing "silly buggers" or else they would be caught. Behind them Romain Feillu, Christophe Le Mevel and Mikel Astarloza started to play the same games as they attacked while weaving sharply all over the road.
On the run in to the finish Burghardt and Barredo maintained the image of track racing as they slowed to an almost stop. Not quite a 'track stand' but this was an incredible image for the finish of a Tour stage.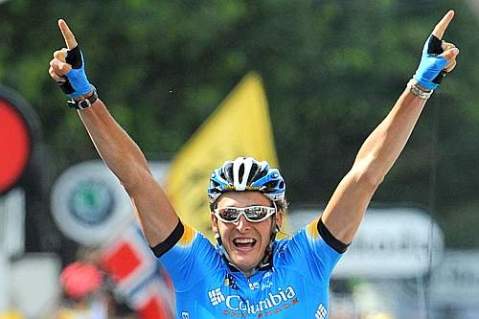 Stage winner Marcus Burghardt a solid Head-Banger [ Image ©: www.gazzetta.it/AP ]
Never Let Your Guard Down
The last phase of the race was also not too shabby back in the peloton. Roman Kreuzinger slipped away with a small group. As he was lying second in the White Jersey competition this was a cheeky move. Andy Schleck soon realised what was happening and he soon set off after Kreuzinger in order to defend his lead in the White Jersey competition. Once Schleck made contact the Jersey was safe and the acceleration of the small group enabled them to get home about 3 minutes before the peloton.
Oscar Friere meanwhile was also on high alert back in the bunch and he made sure to win the bunch sprint to pad out his lead in the Green Jersey competition.
The Mark of a Champion
Damiano Cunego (Lampre) chose the Tour as his major 2008 target. This former Giro winner disappointed his legions of Italian fans who were dismayed to see their man decide against riding their own national tour.
For this entire Tour Cunego was not able to rise to the level of the primary GC contenders. Day after day we saw him battle bravely but as regular as clockwork he would be tailed off on the major climbs. Many other great champions would have simply thrown in the towel but not the proud Cunego.
About 30kms into today's stage Cunego was involved in a nasty crash which smashed his chin and generally knocked the wind out of him. It took about 7 minutes for the medics to patch him up and send him on his way. For the rest of the day he chased the peloton accompanied by most of his team mates. There was a real danger that even with all of this help he would finish outside of the time limit. Astonishingly Cunego and he team more or less rode the whole day at the same speed as the peloton and consequently finished well within the time cut.
Damiano Cunego's longest day [ Image ©: www.gazzetta.it/AP ]
Such a ride as this demonstrates immense courage and the desire to maintain one's pride. In Cunego's case it was also the hallmark of a great champion. He may have banged his head today but his ride was no head-banger special!
Return to ToC >>> Previous Stage >>> Next Stage >>>