CyclingRevealed's First Impressions '07
Today, Friday 13th July, is the 40th anniversary of Tom Simpson's tragic death on Mt. Ventoux during Stage 13 of the 1967 Tour. At the time the event was a cataclysmic shock that bore deep into the conscience of the racers and fans alike. In addition to the furnace like conditions on the mountain that day, exhaustion, dehydration and drugs were identified as the contributing factors to Tom's death.
Read our special feature on this sad anniversary
HERE
Stage 6 - July 13th, Semur-en-Auxois to Bourg-en-Bresse, 199.5 km
Conscience is but a Word That Cowards Use
My conscience hath a thousand several tongues,
And every tongue brings in several a tale,
And every tale condemns me for a villain.
[ From Richard III, Shakespeare ]
Yesterday every tongue was telling it's tale of Vinokourov's dramatic crash during the final phase of the race. And almost every tale was condemning the peloton as a collective villain. After Vino hit the deck the race pace moved into overdrive. True they were chasing down a break and the finish was only about 25kms away. But then news of Vino's misfortune would have reached the bunch through race radio. Whether the bunch was sticking it to the number one race favorite or not will never be known. The truth will be a matter of conscience for many team managers and their riders. However if there was collusion Astana will find out who the ring leaders were and at some time in the future Astana will repay those villains for their evil ways.

A battered Alexandre Vinokourov signs-in [ Image ©: www.gazzetta.it ]
While most commentators were complementing the big winners of the day they ignored Vino's ride. Without doubt he produced the best ride thus far in this Tour. Badly battered and bleeding he regained his composure as his team came back to help him. With the peloton traveling in excess of 50kmph, Vino and his boys set about chasing them down. One by one Vino's teammates blew as their incredible tempo saw them passing other dropped riders as though they were standing still. In the end Vino rolled home without any teammates and 1m 20s back on the stage winner. Many riders were astounded that Vino only lost that amount of time and his ride should long be remembered as a terrific exploit.
Most of us are familiar with the gentlemanly treatment offered lead riders in the Tour. Remember when Lance Armstrong waited for Jan Ullrich after he tumbled off the road on a mountain descent. Also remember when Armstrong was dragged to the ground by a spectator's bag during a critical mountain climb. Some of the small lead group with him that day wanted to leave Armstrong floundering and race on. Tyler Hamilton famously sprinted to the front and signaled to everyone to turn off the gas until Armstrong got back. So why was Vino not afforded the same courtesy? Quite simply he is not race leader, he is just one of many favorites. That's the brutal reality in a race with so much at stake.
Fair play in the Tour not only extends to fallen riders. In 1998 after the Festina affair broke, Richard Virenque, with great theatrical shows of tears, swore black and blue that he was clean. In the end evidence and his own conscience crumbled and he confessed. After that he rode well again and even claimed the KOM jersey for a record seventh time. This season conscience got the better of the highly respected Erik Zabel when he confessed to taking drugs back in the 90's. The cleansing of his soul has seen the German come back to his winning ways and right now is challenging for the Green Jersey.
Pristine blue skies and verdant green farmlands greeted the Tour today. It was perfect cycling weather and 2kms after the start Bradley Wiggins (Cofidis) accelerated away from the peloton. He had probably hoped that some help would come up and join him but the bunch shut down every response to the Wiggins attack. So the British Olympic Pursuit Champion, and accomplished time trialist, forged ahead on a long, lonely ride through the beautiful French country side. He gained almost 18 minutes at one point and was perhaps thinking of emulating Britain 's Brian Robinson who, in 1959, won a Tour stage by 20 minutes after a 140km lone ride. But such exploits are rare today and very slowly the peloton closed the gap until Wiggins was reeled with 7kms to go. He had been in the lead for 190kms.
| Bradley Wiggins broke away early [ Image ©: www.gazzetta.it ] | Wiggins caught after 190 km in the lead [ Image ©: www.gazzetta.it ] |
| --- | --- |
The stage was now set for a classic sprint finish on the wide straight roads leading into Bourg-en Bresse. This time a 'hungry' Tom Boonen made no mistake and took one of his trademark wins. The victory restored him to the 'Green Throne' as King of the sprinters while Fabian Cancellara easily defended his position as King of the race resplendent in his Yellow Jersey.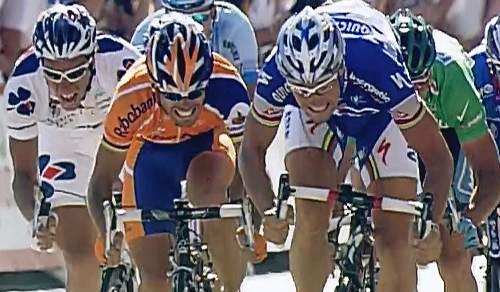 Boonen's final drive to the line! [ Image ©: www.gazzetta.it ]
As we eagerly watch the Tour's daily action most of us are happy to forget the endless saga of Operacion Puerto and other drug related scandals. All year many tongues with no conclusive evidence have been bringing 'in several a tale'. And almost every tale is condemning cycling as a villain. In the end the truth will out and, as we have seen with Zabel, it comes down to a matter of conscience.
| King Richard III | King Fabian [ Image ©: www.gazzetta.it ] |
| --- | --- |
Return to ToC >>> Previous Stage >>> Next Stage >>> Stage 6 Sup When Will They Ever Learn?