CyclingRevealed's First Impressions '07
Stage 4 - July 11th, Villers-Cotterêts to Joigny, 193 km

The Big Cheese
Although there are four modest category 4 climbs on the menu today it is generally believed that the sprinters will again rule the day. Passing through mostly well tended farmlands this area is known as Brie Champenoise.

Brie de Melun
Brie, the most prized and celebrated of all French cheeses, is believed to have been created prior to the Eighth Century. Charlemagne's chronicler, Eginhard de Saint Gall, reported that the Emperor enjoyed it at the Priory of Rueil in the town of Brie in the year 774. In 1815, the Prince de Tallyrand named Brie "Le Roi de Fromages" - The King of Cheeses. There are now many varieties of Brie made all over the world, but in France the French government officially certifies only two types of Brie to be sold under that name: Brie de Meaux and Brie de Melun.

You don't sprint if you want good Brie
Brie is usually produced from whole or semi-skimmed milk. The curd is obtained by adding rennet (a natural complex of enzymes) to raw milk and heating it to a maximum temperature of 37°C. The cheese is then cast into molds, sometimes with a traditional perforated ladle called a "pelle à brie". The 20 cm mold is filled with several thin layers of cheese and drained for approximately 18 hours. The cheese is then taken out of the molds, salted, inoculated with cheese mould and aged in a cellar for at least four weeks.
But as all gourmets know, when in France your local choice of delicacies is rarely limited. As the race slices through Brie cheese country, over the left shoulders of the riders the vinyards of Champagne country beckon. Naturally the French people have created great recipes to maximize their appreciation of their famous regional foods and wines. How about some Oyster and Brie Champagne Soup or Almond, Champagne and Brie Fondue? Good for us, bad for the Tour riders!

The French people have created great recipes to maximize their
appreciation of their famous regional foods and wines
After yesterday's treacle slow pace today's stage was all business right from the gun. Forty kms were covered in the first hour and some of this speed was created as a result of David Millar trying to recapture the KOM jersey at the first climb of the Côte de Veuilly-la-Poterie after just 23 ½ kms. Millar tried very hard but his second place did not garner enough points to grab the jersey from Stéphane Augé (Cofidis) .
Over the top of the climb the general confusion was used by several riders to try and slip away but the bunch was obviously not as lethargic as yesterday. However after several failed attempts it was not long before a break of five managed to pull ahead and by Km 37 they had 30 seconds and were working well together.
Juan Antonio Flecha (Rabobank), Gorka Verdugo (Euskaltel - Euskadi), Matthieu Sprick (Bouygues Telecom), Sylvain Chavanel (Cofidis) and Christian Knees (Milram) faced 156kms ahead of them if they intended in getting to Joigny before the peloton. With about 75kms to go this business-like break led by almost 4 minutes.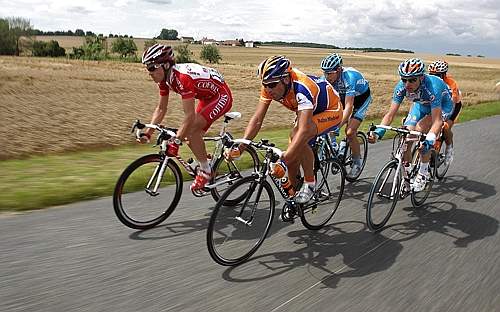 This business-like break led by almost 4 minutes before being caught [ Image ©: www.gazzetta.it ]
Chavanel had the greatest motivation to succeed today as he lay only 56 seconds behind Cancellara on GC. If he managed to win the jersey this Frenchman would instantly become a national hero hailed as we saw with Thomas Voeckler a few years ago. In his favor were his very capable fellow break companions. In particular Juan Antonio Flecha is one of those rare Spanish riders who loves, and is very successful in, the northern Europe classics. A stage win for Flecha, the Yellow Jersey for Chavanel! Back in their respective team cars were their mangers forging a deal between Cofidis (Chavanel) and Rabobank (Flecha)?
If there was any wheeling and dealing the bunch was having none of it. Yesterday they really messed up their chase of the break who were not caught until the final kilometer. Consequently the front of the bunch today was populated by hard working domestiques under orders to keep the break within easy striking distance. Augé was probably hoping that the catch would not come until the final categorized climb of the day had been passed at 145kms. This would make for an easier ride as he would not have to battle with Millar to protect his KOM jersey. His wish was granted and Cofidis would keep the Polka Dot Jersey for another day. It was now up to Chavanel to make the day a dream come true for his Cofidis team.
The Côte de Galbaux ( at 144kms) was taken by Chavanel who could now claim the KOM jersey if he also won the Côte de Bel-Air climb which arrived just 4.5kms later. In what was probably a gentleman's agreement, Chavanel held back to allow his teammate to continue wearing the KOM jersey.
The good news for the break was that they now held about a two minute advantage. The bad news was that forty five kilometers still separated them from the finish line and behind them the peloton was not messing around.
In spite of an incredibly spirited fight the Cofidis dream of Yellow evaporated when the break was lanced with clinical precision only 7kms from Joigny. Big wide roads tending to go slightly downhill set the stage for a perfect sprinters finish. As almost the entire peloton roared up the finishing stretch at warp speed it was the Norwegian 'god of thunder' Thor Hushovd who convincingly got the best of all of the Tour's top sprinters.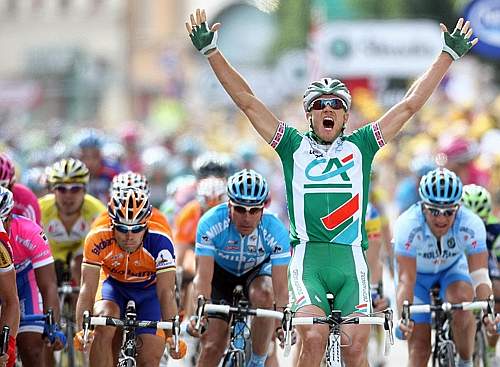 Stage winner Thor Hushovd [ Image ©: www.gazzetta.it ]
Emmental and Gruyère are well known famous Swiss cheeses. But this week Swiss hero Fabian Cancellara, who continues to wear the Yellow Jersey, has been the big cheese!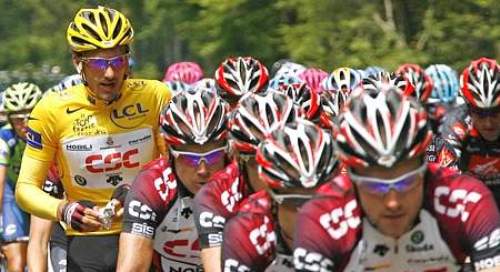 Swiss hero Fabian Cancellara protected by his CSC team [ Image ©: www.gazzetta.it ]
Return to ToC >>> Previous Stage >>> Next Stage >>>