CyclingRevealed's First Impressions '07
Stage 13 - July 21st, Albi to Albi, 54 km Individual Time Trial
The Art of the Time Trial
Founded in the Bronze Age, the ancient city of Albi has hosted every major civilization since. Today the city's Sainte Cécile cathedral, claimed to be the world's largest brick construction. This monument is a masterpiece of the Southern Gothic style.

A classic Lautrec painting " La Goulue arriving at the Moulin Rouge"
Another claim to fame is that Albi was the birthplace of Toulouse Lautrec in 1864. Lautrec is one of the most famous painters of the modern era with his 'post-impressionist' scenes of Parisian nightlife immediately recognizable even to those with only a glancing knowledge of art. Copies of Lautrec's posters are to be found everywhere and it is his work as a poster illustrator that reveals his link with cycle racing.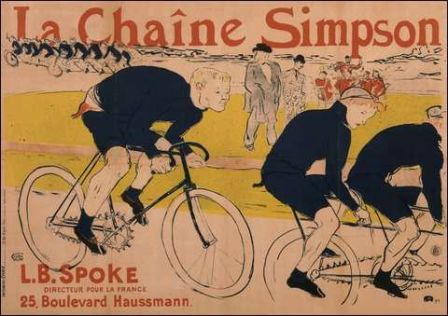 Lautrec's poster for the Simpson bicycle chain company
Physically unable to participate in most of the activities typically enjoyed by men his age, he was nontheless an avid fan of cycling (and several other sports). Lautrec was a keen observer of these events and often seen trotting up and down alongside the cycle track to get closer views of the athletes, their equipment and the progress of the competition. It is well known that he captured and rendered most details quite accurately.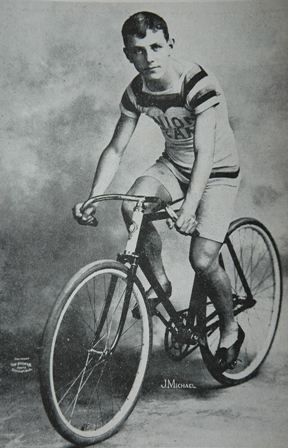 1895 World Champion Jimmy Michael was Lautrec's model for his Simpson chain poster
In fact Lautrec was commisioned to produce a marketing poster for Simpson bicycle chains. The finished poster shows a track rider being paced by a tandem. His first sketch for the project used the 1895 World Champion from Wales, Jimmy Michael, as the model. The sketch was rejected by Lautrec's client because it represented the chain very poorly. However Lautrec left the lithograph unfinished and issued an edition of two hundred prints believing that a market for the print existed among Jimmy Michael's fans.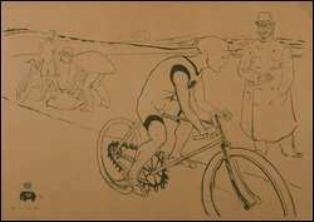 Lautrec's sketch of Jimmy Michael was rejected by his client
If Lautrec were with us today it would be very interesting to see how he would portray today's racers on their high tech time trial bikes. But we can be sure that on this first super critical day in the GC battle art will be the last thing that the riders are thinking of.
Out of the start gate in Albi the time trial course headed east on long, straight roads. The prevailing winds were at the rider's backs on a gradually ascending road to the first time check at Villefranche d'Albigeois (18km). From here the road continued to climb for another 5kms before dipping down on a technical 5km descent, including two switchback turns, to the town of Ambialet (29km). A left turn now put the wind in to the rider's faces as they wound along the Tarn River valley. The next challenge was the daunting Cat 4 Côte de la Bauzié ascent (3.4km at an average 4.7 percent grade) to the second time split at the top of the climb (38.5km). Once over the top the riders headed back to Albi with the next 12kms being mainly downhill on well maintained smooth roads. In Albi itself the riders had to tackle several roundabouts before crossing a bridge over the Tarn to finish on a 1.4km straightway along the Avenue Albert Thomas.
So far the Tour has been blessed with mostly dry, hot, sunny days. Not so today with low cloud cover and steady rain falling to make the roads treacherous for the highly sensitive time trial bikes that are very difficult to keep upright in the best of conditions. Very early on in the race World TT Champion Fabian Cancellara (CSC) crashed hard and abandoned his goal of winning this race (but he did not abandon the Tour). This incident sent a clear signal to all of the GC contenders who were still well over an hour away from starting.
Bradley Wiggins (Cofidis), the British Olympic Pursuit Champion and accomplished time trailer, started as the 10 th rider (he is 166 th on GC) and set the benchmark ride for all the others still to come. Until the batch of GC hopefuls started the riders came and went but none could get near 'Wigo'. However many of them did slither out to add to the growing consternation of the GC riders awaiting their turn.
While the Green Jersey, Polka Dot Jersey and White Jersey competitions have been spirited and have evolved into fairly predictable situations, the race for Yellow has been somewhat tepid. With one great mountain ride Michael Rasmussen grabbed the jersey but the other GC hopefuls have been less than impressive while playing their waiting games. Today however, most expected Rasmussen, who previously has shown that his great Achilles heel is the TT, would lose his leadership.
| 2nd place Cadel Evans | Race Leader Rasmussen |
| --- | --- |
There are two big stories to come out of today's race. First Rasmussen rode an excellent TT showing that his off-season focus on the discipline has really paid off. He even caught Alejandro Valverde just before the finish line. His ride more than saved his Yellow Jersey (by 1 minute over Cadel Evans).
The second big story of the day was Alexandre Vinokourov's winning ride. He blitzed the slippery roads to take a very impressive win 2m 14 ahead of the gold mark set by Wiggins (who ended the day 4th). Since his crash on Stage 5 when it looked as if Vino would abandon, he has shown the mettle of a truly great champion. He simply does not accept defeat. With today's effort he now moves up to 9 th on GC, 5 minutes and 10 seconds behind "chicken legs". With three brutal Pyrenean stages to come and another 55km time trial next Saturday, Vino's demonic attacking style could well pull off a truly spectacular and amazing Tour win.
Of the other GC contenders Evans rode very well into second place on the day 1m 14s behind Vino while Vino's Astana teammates Kloeden and Kashechkin grabbed the third and fourth spots respectively. Heading the best of the rest today was Discovery's Alberto Contador (now 3rd on GC) and Levi Leipheimer (now 5th on GC). For most of the other GC hopefuls today was a disaster. Christopher Moreau who until recently looked like a big hope for a French podium place finished in 125th place over nine minutes back. He will receive little sympathy from Vino who considers him to be one of the main riders who tried to stick it to him while he was on the ground in stage five.
Taking ability and demonstrated aggressive riding thus far in this Tour, two riders now stand above the rest in terms of GC candidates. Even with over a five minute deficit Vino, supported by his fearsome team, is clearly out to grab this Tour. With a 2m 31s deficit, Alberto Contador is a rider who can, and will if given half a chance, ride away from everyone in the mountains. After today we should not discount Rasmussen who has obviously matured as a rider and is displaying great tactical racing skill and bravery. Unfortunately Rasmussen's team is not up to the level of Vino's Astana squad or Contador's Disco boys. In the end it may come down to team strategy and depth of talent.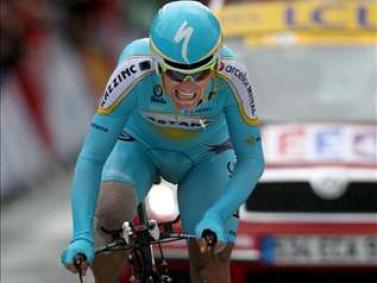 Vinokourov's outstanding effort [ Images ©: www.gazzetta.it ]
As one of the giants in the world of art, Toulouse Lautrec would most certainly have appreciated today's cycling athletes flashing through his city displaying the art of the time trial.
Also read CyclingRevealed's February Vinokourov feature:
Return to ToC >>> Previous Stage >>> Next Stage >>>