TdF History: Chutes, Barodeurs, and Class
From Flandria Cafe
Fast Eddy O first wrote this article for Flandria Cafe in April 2010.

Eddy O of Flandria Cafe (a virtual wielercafe) is rapidly become one of the best Cycling History writer on the internet, if not anywhere.

To follow Flandria Cafe either go to the "Sign-in" section in the upper right corner or click on the "Follow" button in the left hand colume of Flandria Cafe. Any and all comments are welcome.

So make yourself comfortable, pour a glass of your favorite Belgian brew, and enjoy!


Le Tour de Chutes (Crashes)
Seems like everybody's asking, 'Why are there so many crashes in the Tour 2011?'

Perhaps it's just the wall-to-wall media coverage that makes it seem that way, for it seems to this follower for decades that the first week of the Tour has always been filled with carnage. But 2011's random wreckage has unquestionably decimated and damaged a lot more of the favorites: Out by KO? Wiggo, Horner, Van den Broucke, Vino, Brajkovic, Tommeke Boonen, and Dave 'Z Nuts'. Not to mention damage and delays to Contador, Gesink, Kloden, Levi, and Boasson Hagen.

Who's remaining of the pre-Tour favorites? The Schlecks seemed to be through, riding in a state of grace. Every time it gets hard, they're at the front, dancing away energetically like wind-up toys. And Cadel seems to be in great form, avoiding the bad luck that has dogged him in the past. Basso and Cunego are lurking as well, could see some fireworks by this Italian duo.

Radio Shack could be renamed "Random Shunt". Johan is justifiably incredulous at his bad luck last year, but after over 10 years of amazing domination, an annee sans was statistically due to strike the Izegem juggernaut.

It's really too bad Chris Horner was out with a broken nose, he would have been fun to watch in the mountains. But hey, you can't ride with a broken nose, can you? TdF history tells us that French favorite and eternal second Raymond Poulidor famously broke his in a crash on some heavy roads to Albi in 1968 after a collision with a motorbike. Like Horner, he similarly struggled to the finish, but was forced to abandon the next day in a Tour he was favored to win. Check out the in a video footage about that day here.


Nothing smarts like a broken nose: Pou Pou fights to limit the damage on the road to Albi in 1968 [Photos from Achive]
Unfortunately crashes are part and parcel of the Tour. I find no joy in seeing them, but some of the public must like watching for crashes. I'd be quite satisfied if the only carnage was the explosion of the peloton on the ascending slopes of a categorized mountainside in an athletic sport's ultimate endurance contest.


Mass 'Chutes dramatique' were part of the Tour long before 24/7 TV coverage. [Photos from Achive]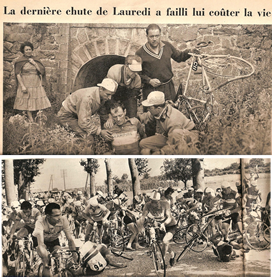 Radio Tour: Chute au peloton! [Photo from Archive]

In the old days L'Equipe's Tour recap newsprint issues used to over-feature some overly grisly photos, which I like to call, "Ouuwwwch, my f****** head!!!" photos. Seems while some things never change, they might even be getting a little worse. Bigger fields + faster speeds + road furniture + more vehicles/motorbikes + more pressure = more carnage.
Barodeurs (Adventurers)

But hey, what can you say about our Cafe favorite, Thomas Voeckler? Baroudeur break through the Puys to a well-deserved Maillot Jaune. A man of the Tour, Voeckler reminds me of some of the great baroudeurs (French for 'adventurers'), guys who are always making breaks, pushing it without a thought of tomorrow, Racing for today.

One for the baroudeurs! Schweet. [Photo from Reuters]
Typically, they're French guys. A few years ago, there was Jacky Durand who made a habit of initiating kamikaze breaks, he seemed to have a perennial hold on the dossard rouge of the most aggressive rider.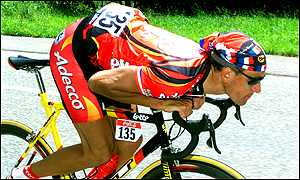 Jacky Durand [Photos from Achive]

Often they are authors of long TDF solo efforts. Albert Bourlon's 253km break in 1947 set the standards for decades of long breaks.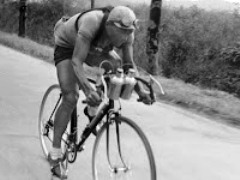 Albert Bourlon, 1947 [Photos from Achive]

Clown Roger Hassenforder, the Alsatian sprinter carried the torch through the fifties, animating many a stage. You can visit his hotel-restaurant still run by his family, if you're ever find yourself in Kayersberg near Colmar. If you're lucky to catch him there, he'll tell you some great tales!
Chez Roger Hassenforder

[photo-Hotel Hassenforder]

Joel Pelier

[photofrom Archive]
Thierry Marie did 234k solo to victory in 1991. And Joel Pelier pulled off a similar solo ride to a tearful victory to Futuroscope in 1989, on a day when his parents came to see him race for the first time in the Tour.
Baroudeurs make the Tour. The French get a lot of grief for not having an overall winner for a few decades now, but say what you want, they are often underrated guys who attack every day! You've got to respect that.
Class
The other story of last year's Tour was the courage and class of Johnny Hoogerland and his whole Vacansoleil team. Where do you begin: First, you get a guy who against all logic attacked like crazy to win the climbers jersey, then he gets cartwheeled into a barbed wire fence by a moron driving a TV car like he was in the meatball rally.
Barbed wire can kill you. For some reason I can't seem to ever forget the horrifying story of British F1 Grand Prix driver Chris Bristow being decapitated by one just like it during the 1960 Belgian Grand Prix at Spa Francorchamps. So when I saw Hoogerland do a half pike with full twist into that fence, I shuddered. The stoic man called the Bull van Beveland changed his shredded shorts, sopped up the blood, and rode to the finish to defend the jersey before getting dozens of stitches to close the wounds. That, jongens (boys), is beyond a bike rider.
A moron driving a TV car

[photo-SBS]

Johnny Hoogerland and Barbed wire

[photofrom

Reuters

]
Now imagine if that had incident happened in the litigious US of A, you know there'd be a blood-baying lawsuit. Not over there though. Both Hoogerland and his director accepted the apology, understood it was an accident, that racing has risks, and refused to take any legal action against the driver or the Tour organizers. Cool headed class all around. We need more of that these days.
Vacansoleil! That's a team worth supporting, I think.
Return to ToC >>>