CyclingRevealed's Giro '07 Perspective
Tappa 13, May 25th, Biella to Santuario Di Oropa, 12.6 km Individual Time Trial
The Sword of Damocles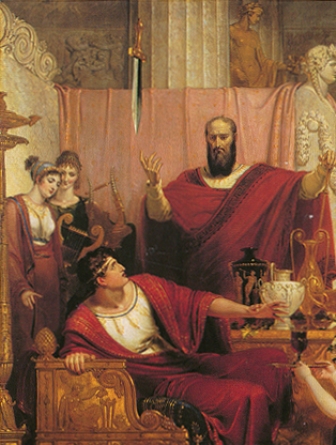 "That sword! That sword!" cried Damocles. He was so badly frightened that he dared not move. "Yes," said Dionysius, "I know there is a sword above your head, and that it may fall at any moment. But why should that trouble you? I have a sword over my head all the time. I am every moment in dread lest something may cause me to lose my life."
The Roman politician and philosopher Cicero first told the famous story about the Syracusan tyrant Dionysius II and his courtier Damocles. The anecdote is often told as a reminder that for a powerful man, there's always danger, although the real point of the story is that happiness is fragile.
For the Giro's main contenders the agonizing climb from Biella to the sanctuary of Oropa is truly a Damoclean sword. After yesterdays incredible stage across the Colle della Agnello and the Col d'Izoard many legs will be screaming for rest today. The sharp, brutal time trial effort could well decide this years Giro winner.
Since the Middle Ages the Santuario di Oropa has been the most important sanctuary of the Alps. It houses the Black Madonna and today the complex is listed as a UNESCO world heritage site.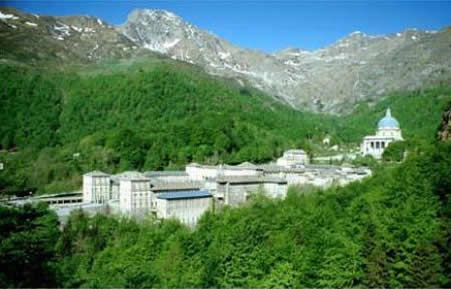 An ancient print depicting the pilgrims road up to Oropa and the Santuario di Oropa
Biella is an important textile and wool producing center located amongst breathtaking mountain scenery. Scattered with castles, villas and religious monuments, the green hills are rich with forests and mountain pastures with numerous natural reserves.
The winding road from Biella to the sanctuary rises 734 meters with an average of about 6% and a few sections close to 13%. After 110 riders had ground their way up CSC's Dave Zabriskie set a new target time of 29m 14s. But as he was finishing his ride Leonardo Piepoli, Saunier Duval was challenging and he had bettered Zabriskie by 4s at the 10.4km mark. On the finish line Pieploi had chopped 18s off of Zabriskies time to finish in 28m 56s. Considering the incredible work that Piepoli did for his team leader Simoni yesterday this was an astounding performance and demonstration of recuperative powers.
One by one the top riders arrived but it seemed that nobody could better Piepoli as the attention turned to the GC. Simoni suffered like a dog and lost time. Schleck once more rode his heart out and was only 39s slower than Piepoli. However Marzio Bruseghin (the current Italian national TT champion) produced a stunning ride and pipped Piepoli by just one second to take the day's stage win.

Italian Time Trial champion Marzio Bruseghin wins the stage 13 mountain TT ( Image © La Gazetta )
Di Luca was third at 8s and thus retained the Maglia Rosa. Inching closer to Di Luca is Bruseghin who is second at 55s while Schleck looks solid in third place at 1m 57s. Increasingly it is now looking as though this Giro is Di Luca's to lose.
In a Grand Tour (or any cycle race) a bad day, a mechanical, competitive tactics and much more can quickly destroy an ambitious riders dreams of victory. For Di Luca and Simoni in particular, today was a dangerous challenge but while Di Luca survived Simoni fell victim to the Sword of Damocles.
SPECIAL NOTE: Elsewhere this past week the Sword of Damocles has been working overtime falling on a series of personalities like Eric Zabel and Bjarne Riis confessing on drug use during their racing careers. The secretive world of drugs in cycling seems to be rapidly crumbling. We can all hope that this is so.
Return to Giro 07 ToC >>> Previous Stage >>> Next Stage >>>