CyclingRevealed's Giro '07 Perspective
Tappa 1- May 12th, Caprera to La Maddalena, 25.6 km Team Time Trial
Seeing Pink
Possibly the most spectacular sight in elite road racing is the Team Time Trial. Each team is immaculately turned out in matching outfits and on super high-end time trial bikes that cost a fortune. The best teams will ride most of the distance in perfect formation at speeds consistently exceeding 50kmph. (See our special description at the end of this report.)
Last year we approached both the Tour and Vuelta with great trepidation due to the fallout from Operacion Puerto. As we embark upon the Giro it would seem that the drug culture epitomized by the Spanish scandal is finally calling those implicated to issue. Last year's Giro winner, Ivan Basso, is already starting to pay the price for his cheating foolishness and as a result will not be defending his 2006 Giro crown. Many more riders are on the verge of being revealed and banished from the sport. With all of this turmoil in progress we can only hope that the Giro evolves into a spectacular race.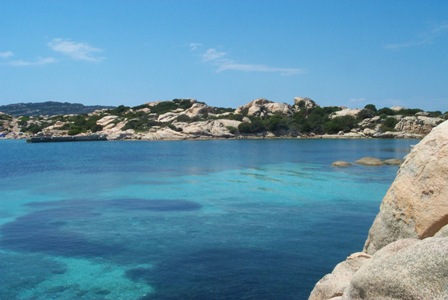 The three week race provides a spectacular course just begging for great racing. Today the teams got under way on two tiny beautiful Sardinian islands. Caprera (pictured left) is the most famous of these islands as the retirement location (and burial place) for Giuseppe Garibaldi, an Italian patriot and fighter who lived in the 19th century and was one of the fathers of the Italian independence. This year marks the 200th anniversary of his birth.
Previous Giro winners Gilberto Simoni (Sanier Duval), Paolo Savoldelli (Astana) and Damiano Cunego (Lampre) are each considered podium contenders this year. Also highly fancied is Danilo Di Luca (Liquigas) who, if he can replicate his Giro form of two years ago, should also be a serious threat to anyone seeking to win this Giro. Based on these predictions, which are founded on current form, the team time trial was expected to immediately reveal the relative strength of each of these riders teams.
Although continually undulating (but not extreme hills), the course was very technical and demanded great team riding skill to keep a fluid pace and close formation riding. Strong winds, and narrow roads caused many riders to come back from their pre-race rides complaining bitterly that the course was too dangerous for a team time trial. Everyone was saying that pure TT bikes would not be used. It would seem that all this commentary was typical pre-race mind games designed to rattle the competition.On the day TT bikes and disc wheeels were in fact the weapon of choice.
However the intensity of the course, the heat and the strong sea breeze were disguised by the sheer beauty of the road as it wound its way beside a prisitine azure blue sea and endless little rocky coves. While tourists and holiday makers may have been lazing happily in this idyllic setting, many of the Pro-Tour riders were riding through a thousand deaths. Most teams shed riders along the way but all teams were attempting to bring their five leading riders to the line together (team time is taken by the fifth rider to cross the line).
As usual in the TTT, team CSC were extremely serious about winning this stage. They were the fourth team to start and set the early standard with a time of 34m 08s which was one full minute ahead of the Predictor Lotto team. CSC also displayed a strategy which was either planned or caused by the high speed, with four riders being dropped along the way. By the end of the day most teams shed at least few riders. In CSC's case their plan was to put Fabian Cancellara into the first Pink Jersey. For the spectators the tension was pre-programmed as CSC's eternal TTT rivals, Discovery Channel, were not due to start until long after CSC had finished (20 th of 22 teams).
One has to go a long way back to find a TTT not won by CSC. But this is the Giro and for over a decade home riders have dominated this race. Poalo Savoldelli and his Astana team (started 15th ) put things to right for Italy when they blitzed over the finish line in 33m 51s to take top spot and with it demolished CSC's iron grip on this discipline.
As the Astana team finished, the Discovery Channel team were out on the road suffering their own purgatory. Like so many of the other teams they too shed four riders relatively early on in the test. On the run in to the finish Popovych (team leader) lost his back wheel and hit the deck, thus destroying any hope that the team had for the win (which looked possible up to that point).
With Discovery out it was now left to Liquigas to challenge Astana. They still had six riders at the finish and roared over the line to slice 16 seconds off of Astana's time. Strategically (we assume, because Di Luca's face said otherwise!) Enrico Gasparotto led the Liquigas team home and happily slipped on the first Maglia Rosa. Behind him all the favorites (Savoldelli, Simoni, Cunego and Garzelli) are grouped within relatively easy striking distance. For a Grand Tour it is not normally an advantage to have to defend the leaders jersey from day one. Liquigas have a tough challenge ahead of them but their strategy will not be to protect Gasparotto but to keep their team leader, Danilo Di Luca (2nd on GC) in a postion to take the jersey at a time of his choosing.

Danilo Di Luca; seeing pink or seeing red!
Top team results:
1st Liquigas 33.35 (Di Luca, team leader)
2nd Astana 33.51 (Savoldelli, Giro winner 2002, 2005)
3rd CSC 34.08 (Fabian Cancellara, team leader)
4th Lampre-Fondital 34.17 (Cunego, Giro winner 2004)
5th Discovery Channel 34.27 (Popovych, team leader)
6th Acqua & Sapone-Caffè 34.38 (Garzelli, Giro winner 2000)
11th Saunier Duval-Prodir 35.03 (Simoni, Giro winner 2001, 2003)

Maglia Rosa (Pink Jersey, race leader)
Enrico Gasparotto Liquigas
Tomorrow : the race embarks on its first road stage and many riders will still be seeing pink as they dream of reaching Milano in the much coveted jersey.
Return to Giro 07 ToC >>> Next Stage >>>