CyclingRevealed's Giro Perspective
Tappa 5, May 11th, Piacenza to Cremona, Team Time Trial, 35 km
[ SPECIAL: On riding a Grand Tour Team Time Trial, All for One and One for ALL ]
Yuk, Cremona !

The Charming Old Town of Cremona
As a young kid my mother (who never laid claims to being a cook) would often serve us Cremona rice for desert. The thought of this always made me shudder because it either appeared soggy and lifeless or cooked so much that it had virtually no moisture. Little did I know that the original recipe concocted in Cremona is truly delicious. Like so much in England , the recipe was probably brought back to England by soldiers after WWII.
Piacenza and Cremona were founded by the Romans in 218BC. Today these two towns lie on opposite sides of the Po River and both benefit from the rich fertile soils of the Po valley. Regional culinary delights include meats, cheeses, pastas and the unique mostarda di frutti which is a syrupy mustard containing preserved fruits.
Between them the two towns claim Christopher Columbus, Antonio Stradivari (violins) and Giorgio Armani (fashion designer) amongst numerous other world famous personalities to have been born there.
Starting in Piacenza , the team time trial followed the River Po to the bridge leading into the beautiful old town of Cremona . Basically dead flat and with prevailing winds coming from behind the riders, fast times were expected. In complete contrast to the past days in Belgium the race returned home to Italy with dry and very hot conditions (about 30degC/85degF). Also due to construction the course was shortened by 3kms to 35kms.
Coming into the stage the top twenty riders on GC were within one minute of race leader Stefan Schumacher. Discovery leads the team classification over second placed Gerolsteiner. Based on the current race situation Discovery is the strongest team. They also have a stellar history in this discipline at the Tour. All they need do is beat Gerolsteiner by 14 seconds (and win the race) and Savoldelli will be back in pink. However the big threat today was CSC with power riders like Voigt, Julich, Lombardi and Gustov all well prepared by Bjarne Riis (team DS) to help Ivan Basso into the race leadership. Recent history has CSC and Discovery as mortal enemies in this discipline and a good battle is on the cards between these two great teams.

CSC's winning form [ Image ©: www.gazzetta.it ]
Right on script CSC powered to an impressive win but surprisingly Basso did not move into the Pink Jersey. However even more surprising was the second place performance of T-Mobile who were just one second behind CSC. The much maligned Jan Ullrich finished with his teams front five riders and demonstrated to the world that he is coming into good form. Compared to the stoic Savoldelli it was a pleasure to see T-Mobiles Serguei Gonchar revel in joy as he donned his new leaders pink jersey. Just six seconds back his team mate Michael Rogers holds third on GC with CSC's Jens Voigt in second at the same time.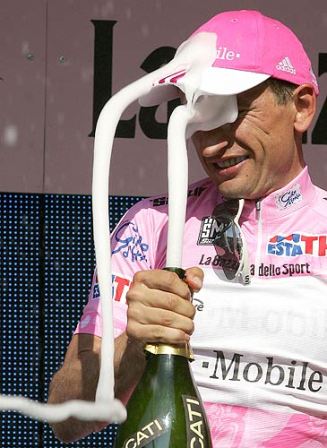 Gonchar pops the cork [ Image ©: www.gazzetta.it ]
Tough times for Discovery who, although they looked smooth and powerful out on the road, lost 39 seconds and came in third to CSC. This performance pushed Savoldelli down to sixth on GC and 9 seconds down on fifth placed Basso. The best of the rest in terms of pre-race favorites was Liquigas who piloted Danilo Di Luca to the line. Their fourth place was 42 seconds down on CSC. This was actually surprising as their formation often looked ragged and occasionally gaps would open up in their pace line. Gilberto Simoni came out worst with his Saunier Duval team finishing a lowly 18 th place and he now lies 2m 28secs behind Basso. Meanwhile Damiano Cunego now lies in no-mans land between Simoni and Basso after his Lampre-Fondital team finished in 8th place today.
The day after tomorrow when we hit the first serious climbing we shall see if the mountain goats like Simoni and Cunego still have a chance for the GC in this Giro. Basso must now be clear favorite especially with the formidable team that he has behind him. While it is good to finally see T-Mobile at the top this year their overall chances are slim. They do not have the depth in numbers (only five of them hit the finish line together whereas CSC rode in as a complete team). Also their lead rider, Jan Ullrich is languishing in about 90 th place about 2 minutes down on GC. He may well ride at the front of the race but the brutal mountains of the last week are not his style. But come TdF time he will be ready and as so many are predicting that race should be between him and Basso. Looking at the state of play today the Giro will come down to a three-way battle between Basso, Savoldelli and Di Luca and their impressive teams.
One final thought on Cremona . My mothers Cremona probably originated from the local Cremona dish of corn and rice cooked as risotto. It certainly lost something in the translation as it crossed the English Channel . But today in Cremona itself the Giro left this wonderful ancient town with another great chapter in its long and colorful history.
SPECIAL NOTE: CSC's finishing time was done in a new Giro TTT record speed of 56.859kmph. The previous record was set way back in 1985 by the Del Tongo-Colnago team with an average speed of 54.545kph (but over a distance 3km further than today).
Tomorrow: the 223km route from Busseto to Forli is as flat as a pancake. Another one for 'Maca' (Robbie McEwen)? Check back for our report.
Return to Giro 06 ToC >>> Previous Stage >>> Next Stage >>>