CyclingRevealed's Giro Perspective
Tappa 15, May 22nd, Mergozzo to Brescia, 189 km
The Last Hurrah
Apart from those who make it over the mountains of the coming week, today was the last hurrah for the sprinters. Stage winners McEwen and Vaitkus have already left for home so most eyes were looking to a rider like Olaf Pollack or even Paolo Bettini should it come down to a bunch sprint.
As the race headed across the Lombardy plain just north of Milan a break of four riders escaped the clutches of the bunch. Buoyed by the eternal optimism of such an adventure, the small group worked hard to reach Brescia ahead of the race. In a world dominated by motor vehicles it was a pleasure to see normal road travel suspended briefly as a huge traffic jam created by race road closures watched the race pass by on the opposite side of the autostrada (major highway).
Racing along wide flat and straight highways spelt doom for the break as behind them the peloton gave them the usual cat and mouse treatment. With the cat breathing down their necks the little group of mice continued to scurry up the road but at 9km to go the cat caught its quarry as the sprinters teams started to shove and jostle for position at the front.
The last time the race finished in Brescia the "Lion King" (Mario Cippollini) roared into town. This time we were not treated to such a magnificent spectacle but as almost the entire bunch tore up the final kms at warp speed it was certainly and impressive sight.
With 2km to go we had the unusual sight of Jan Ullrich driving very hard at the front. Having done his speed training for the day he pulled over and all hell broke loose. In the final few hundred meters it turned into a drag race between Bettini (Quick.Step), Pollack (T-Mobile) and Forster (Gerolsteiner). For the third time in this Giro Pollack was relegated into second place as Bettini took a worthy win. Throughout this Giro Bettini has been trying very hard for a stage win and this colorful character received the enthusiastic cheers of his numerous fans at the podium presentation for finally earning his just rewards.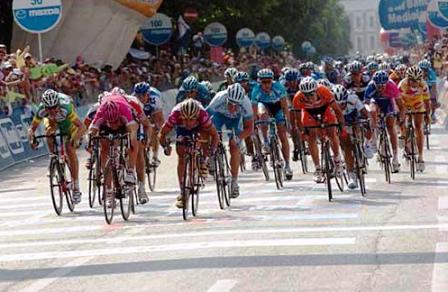 Bettini! [ Image ©: www.gazzetta.it ]
Tomorrow: now for the serious stuff. The 173km route from Rovato to Trento finishes with the grueling climb up to Monte Bondone. It was here fifty years ago that Charly Gaul scored a legendary victory in a snow storm and with it secured overall victory in the Giro.
Return to Giro 06 ToC >>> Previous Stage >>> Next Stage >>>