CyclingRevealed's Giro Perspective
Tappa 12, May 19th, Livorno to Sestri Levante, 165 km
Porscheta and Hangovers


Porscheta, an Italian favorite
Porscheta, roast suckling pig, is a favorite Italian dish which varies in it's preparation from region to region. Yesterday Ivan Basso cooked his competition Giro style to skewer most of his competition like a bunch of little " Porscheta". No doubt Simoni, Cunego and Di Luca in particular woke up today suffering from a monster TT hangover not unlike that after a night on the town spent guzzling way too much Grappa.
Entering this transitional stage before the mountains the erstwhile favorites (Simoni, Cunego and Di Luca) are now laying seven minutes or more back on Basso. Few would bet on any of these guys coming back into GC contention. Consequently the dynamics of the peleton from here on will be dictated by CSC (for Basso), Discovery (for Savoldelli), T-Mobile (or Gonchar) and Liquigas (for Pellizotti).
We expected a break of "no-names" to grab their glory today and sure enough 15 riders built a sizeable lead to dominate the day. Although not considered a mountain stage it nevertheless included a lot of climbing during the second half of the route. With about 50km to go the break still had almost 7 mins advantage. Meanwhile behind them team CSC was unflinchingly fulfilling its role at the front of the bunch protecting its leader Ivan Basso resplendent in his leaders pink jersey.
Unsurprisingly the sprinters did not make it over the big 15km climb of the Passo del Bracco as CSC led the charge. Up front the break started to fragment as the stronger riders started to up the tempo and thus increase their advantage over the peloton. The most active in the break was Manuel Sella (Panaria) who, like Pellizotti a couple of days ago, stood to make a significant leap up the GC table if the break could hold its nearly 7 min advantage. This situation was CSC's primary concern.
With about 10km of the final climb left there was a sudden explosion in the bunch. Di Luca attacked hard with Bettini and a couple of others. A fan with his back to the race, and who was flailing his arms crazily to ensure that the TV cameras saw him, accidently smacked Bettini over the head. We did not catch what he said but 'il grillo' was far from happy as he turned and screamed at the fan. CSC quickly chastised Di Luca and Bettini but the sudden increase in tempo put a lot of riders in difficulty. Most notably Tom Danielson got himself on the wrong side of a split in the bunch and had to put in a major effort to get back up front.
At the sharp end of the race Manuel Sella escaped with Manuele Mori (Saunier Duval-Prodir) and together they gave it full gas on the long descent to the finish. For CSC this meant that they had to ride much harder than they had expected today.
Huge drama. Mori misjudged a bend and disappeared over a steep drop. Just behind him Sella braked hard and crashed into and then rolled over a crash barrier. Amazingly both riders were up and riding again in seconds. With a major rush of Adrenalin the two continued their charge down the mountain. Within minutes Mori decked it again. The four riders just behind them passed the two luckless riders. Now along the finish into town it was all cut and thrust. Under the red kite (1km to go) Sella and Mori reconnected with the four leaders. How did they do that?!
Joan Horrach (Caisse d'Epargne-Illes Balears) won the stage and the incredible Sella was third and Mori fourth.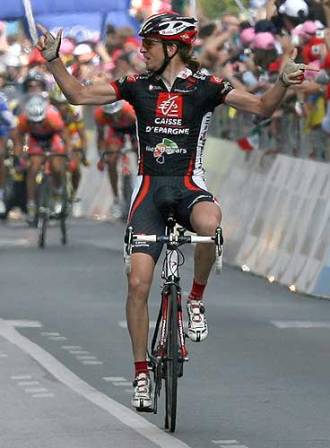 Joan Horrach (Caisse d'Epargne-Illes Balears) won the stage [ Image ©: www.gazzetta.it ]
Without doubt this was one of the most exciting and dramatic finishes to a Grand Tour stage in many years. Both Mori and Sella looked to be OK after the finish but how they both survived without injury and apparently without wrecking their bikes is a mystery. Hopefully they will both be declared injury free after the medics check them out.
For Sella his efforts produced a huge payoff as he moved up from 22nd to 4th on GC. The brutality of the race finale decimated the peloton of which the Maglia Rosa group finished just over 7 mins back. The biggest loser was Sergui Gonchar who was shelled out of the bunch on the final climb to lose a lot of time and with it his GC third place. Consequently Savoldelli moved up to 3rd on GC while teammate Danielson, who had managed to scramble back to the bunch, dropped a place to 6th on GC.
Once again this year the Giro is producing spectacular racing and drama the likes of which we rarely see at the Tour.
Apart from Di Luca's brief attack little was seen of the 'porscheta' today as they nursed their TT hangovers and tried to recover while pondering their forward looking strategy. However we could forgive CSC's DS Bjarne Riis for toasting his team with a little Grappa for a job well done thus far in this Giro.
Tomorrow: the race enters the Alps. The stage has just one significant climb at the end of the day up to the ski resort of La Thuile after covering 216km from Alessandria. Another spectacular day of racing awaits us. Check back for our report.
Return to Giro 06 ToC >>> Previous Stage >>> Next Stage >>>