A CR/OLN/CCB Tour de France Exclusive
| | |
| --- | --- |
| | Hotel: 5 |
| July 7, 2004 | Odometer: 1200 km |
| Arras, France | TDF riders seen: A few more |
| Day: 10 | Stage: 4 |
Stage 4
I guess I am doomed to see riders this year. Still no one in Lycra but CSC were staying at our hotel last night. Jens Voigt is a skinny bugger! Not quite sure were all that power comes from – long levers maybe.
We were staying in Arras last night, it is the first scenic town we have been in. Generally the finish areas are out of town in some less-than-scenic area but today we finish in the Grand Place –and Arras is beautiful – your classic old European town – the architectural style is tall and skinny with very ornate facades and rooflines.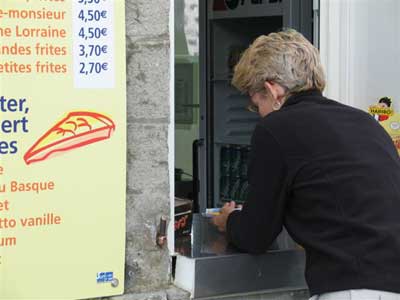 The catering truck is in an adjoining "place" in the shadow of the Abbaye St Gaast. An incredibly ornate abbey with loads and loads of little dormer windows all over the roof. The square is surrounded by these tall skinny buildings which, had I studied architecture at all, I would know the proper name – so apologies to architecture fans.
Nice to hear that Tim Johnson has made an honest woman out of Lynn – congrats to them. Hopefully she can toughen him up! More dishes, more chores for him Lynn if we're ever to see him riding here at the Tour.
As well as the finish area being beautiful, it was also just a 400m WALK! from our hotel last night (Bob Roll still managed to get lost on his way here but that is a daily occurrence). One of my car-mates – another Bob – and I took a little wander around the town last night to try and get some exercise and stumbled upon the Grand Place. As we sat and drank a coffee – our first time this trip sitting in a café (I know you think we do that all the time but it is rare) – we watched a fleet of tow trucks circle round and round towing parked cars out of the finish line area. It was coordinated convoy towing of the highest order. And of course because it was not OUR car being towed it was a tad humorous.
So it was nice to not have to get into the car to get to the finish – we'll have plenty of car time tonight as tomorrow begins the more linear stages and longer hauls from finish to finish.
In a classic "KB picks Stefan Wesemann" move, I will stick my neck out and pick CSC to win today. It's just too easy to say Postal – even if they do win it's nice to try and figure out who might be there as well. That might even put Voightee in yellow which would continue this year's tradition of yellow jersey wearers all being first-timers.
Euskaltel, who suck at TTT'ing at the best of times, should be fairly knacked today seeing as they spent most of yesterday in an unofficial TTT trying to get Mayo back into the lead group. It was kind of cool to see the orange boys on the front flicking their elbows to pull someone through and all the other teams just sitting behind saying "Nope dude, this one is ALL you."
The new TTT timing rules are a "cluster" of the finest level. Trust the French to take a basically simple event and just swamp it with rules and protocol and ridiculously small time gaps. The winners can only gain a maximum of 20 secs over 2nd place, 2nd place can only gain a max of 10 secs over 3rd place. I guess it still puts the emphasis on going AFAP (as fast as possible) as that will dictate finish order and in turn the predetermined deficits. Confused? You will be.
Well, it's 20 minutes 'til the first team goes off and it just started raining here at the finish – fortunate for us it held off until after we'd walked to the lunch tent. Another fab meal – cauliflower and blue cheese soup, duck with grilled zuccini/peppers etc and assorted salads. It's already raining at the start which I guess makes it equally yucky for everyone – nothing like riding 40 miles with road spray going up your nose!
More later
KB
Return to ToC >>>