By Graham Jones
and Barry Boyce
CyclingRevealed Historians
Images © Unipublic
Also read:
La Vuelta: A Colorful &
Caliente History
Vuelta a Espana Champions
Living and Dead
Vuelta Picture Recap - Quintessential Spain
Experience the 2009 Vuelta a Espana
After 700 years of Moorish rule, Spain succumbed to the Christian Reconquest when Ferdinand and Isabella finally conquered Granada in 1492 and created a united Spain. Islamic rule was replaced by Christian rule, but today relics of the Moors permeate the culture, architecture and the very soul of Andalucia, the region where this year's Vuelta begins.
Along with Cordoba and Sevilla, Granada belongs to the trio of romantic Moorish cities that evoke images of quintessential Spain: bullfights, flamenco, brown hills dotted with olive, lemon, orange and wine groves and, of course, romantic castles. Yet 1,000 years before the Moors, the Romans occupied Spain. There is still evidence of that great culture in abundance with bridges, aqueducts and buildings to be seen everywhere.
These musings may seem to have little to do with cycle racing in general and the Vuelta a Espana in particular, but it takes little imagination to recognize that the architects of the grand Tours utilize the history, culture and infinite variations in geographical features of their beautiful countries to design races that become an integral part of their society. Probably no other sport is woven so intimately into the fabric of its homelands.
This year the Vuelta starts in the south at Granada and heads north. After a several sages racing toward Madrid the race then After a long transfer heads northeast to the Pyrenees Mountains. The peloton will pass through Andorra, Burgos and Alto de L'Angliru on its way back to Madrid for the grand finale on September 21st. A brief stage by stage preview follows:
Click on the Stage for the profile
Stage 8 Climbs:
Alto de Aitana [HC from km 183 to 204.7]


Stage 9 Climbs:
Alto Xorret de Cati [Cat 1 from km 180.6 to km 134.4]

Stage 12 Climbs:
Alto de Velefique [Cat 1 from km 108.2 to km 116.7]
Alto de Calar Alto [Cat 1 from km 147.2 to km 154.8]
Alto de Velefique [HC from km 182.6 to 188.1]

Stage 13 Climbs:
Puerto de la Ragua [Cat 1 from km 108.2 to km 116.7]
Alto del Monachil [Cat 1 from km 147.2 to km 154.8]
Alto de Sierra Nevada [HC from km 196.5 to Finish]

Stage 14 Climbs:
Alto Sierra de la Pandera [HC from km 144.4 to Finish]

Stage 16 Climbs:
Pto de Mijares [Cat 1 from km 37.3 to km 57.2]


Stage 19 Climbs:
Puerto de Navacerrada 1 [Cat 1 from km 65.1 to km 74]
Pto. de la Morcuera [Cat 1 from km 101.0 to km 112.5]
Puerto de Navacerrada 2 [Cat 1 from km 150.0 to km 161.9]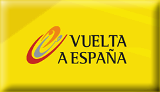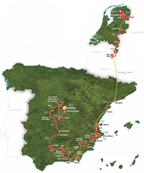 Vuelta a Espana 09 (click to enlarge)
Images © Unipublic