Vuelta Travelogue - Anticipation and Trepidation
Stage 20, September 16th, Rivas Vaciamadrid ITT, 27.5 km
A New Beginning?
Rivas Vaciamadrid is a living symbol of modern Spain. Located on the east side of Madrid it was created in 1954 when the village of Rivas de Jarama was combined with the village of Vaciamadrid. Today 55,000 people live in this new town which claims to have been the fastest growing town in Europe for the past 20 years.
Today's Vuelta deciding individual time trial started in Rivas Futura which is part industrial park and part shopping mall complex. Following mostly grid pattern roads this was a power rider's course with long stretches between each left or right turn.
With all due respect to the rest of the field, today was all about two men. Alexandre Vinokourov (Astana), race leader, was matched against Alejandro Valverde (Caisse d'Epargne-Illes Balears) who in second place on General Classification needed to beat Vinokourov by 54 seconds to claim the Vuelta overall title. Who actually won the stage was of secondary importance.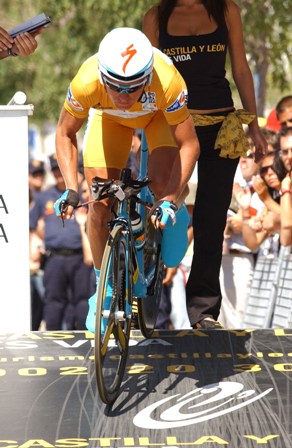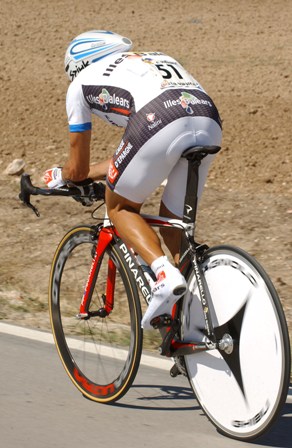 Images © Unipublic
By the time Valverde left the start ramp Laszlo Bodrogi (Credit Agricole) had set the fastest time thus far. Using this as his benchmark, Valverde attempted to out gun his rival by setting a blistering pace right from the start ramp. Indeed when Vinokourov reached the first time check he was just behind the Spaniard. By the second time check Vinokourov was 12 seconds ahead and from there he added about one second per kilometer over the mainly uphill final seven kms.
Vinokourov added about one second per kilometer over the mainly uphill final seven kms ( Image © Unipublic )
On the line Vinokourov not only beat Valverde by 19 seconds with an average speed of 49.03 kmp/h, but he also produced the fastest ride of the day. Samuel Sánchez (Euskaltel-Euskadi) slotted himself between Vino and Valverde for an excellent second place just 6 seconds slower than the winning ride.
For the top six riders on GC the time trial did not change any standings. So tomorrow, barring accidents, the final podium in Madrid will see Vinokourov, Valverde and Kashechkin occupying first, second and third.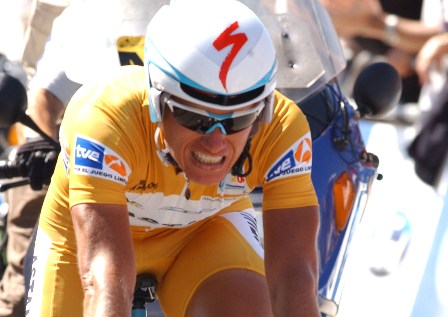 Stage winner Vinokourov averaged 49.03km/h ( Image © Unipublic )
Like so many riders that have cut their Vuelta short in preparation for the World Championships, David Millar (who won the first long Vuelta TT) decided to take it easy today. He cruised in 1:05 minutes slower than Vinokourov for 12th place in the TT.
For Vinokourov tomorrow should be a victory parade into Madrid . Today he said "in light of what happened in July, this victory has greater significance for me". This statement was in reference to his team's decimation as a result of the Operacion Puerto revelations. Vinokourov was not implicated but some of his teammates were (and then later exonerated). However at the time the damage was done and Vinokourov, who was widely favored as a potential Tour de France winner, lost his chance at the 2006 title.
With the Vuelta all but decided we now cautiously celebrate a great victory. As we wrote in our Vuelta preview we have experienced three straight Grand Tours blighted by drug scandals. Each champion (Heras, Basso, Landis) is now fighting to prove their innocence and restore their credibility. Unfortunately we now need to wait a few days after the Vuelta finishes in order to feel confident that we have at last seen another 'clean' Grand Tour. The signs are good and we all hope that Alexandre Vinokourov will be the representative of a new beginning .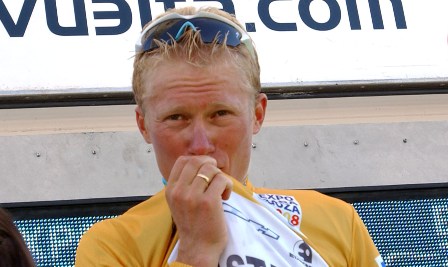 Race Leader with respect ( Image © Unipublic )
Return to Vuelta ToC >>> Previous Stage >>> Next Stage >>> Return to GT ToC