Vuelta Travelogue - Anticipation and Trepidation
Stage 15, September 10th, Motilla del Palancar to Factoría Ford (Almussafes), 175 km
Hitchhiker's Guide to the Vuelta
Fans of "Hitchhiker's Guide to the Galaxy" know that Ford Prefect is a roving reporter and for today he has joined CyclingRevealed for his latest assignment to the unfashionable end of the Vuelta which visits the Ford factory in Almussafes. As he did in the Galaxy adventure, our reporter has chosen his name for today's Stage 15 in the belief that he will blend nicely into the local Almussafes culture which revolves around the Ford Motor Company factory.
In our pre-Vuelta introduction article we wrote that "Spain provides a kaleidoscope of historical treasures, but modern Spain does not live in the past. This modern nation is very much playing a leading role in European evolution." The Ford factory in Almussafes is an excellent example of modern industrial Spain .
Ford Spain is the sponsoring vehicle supplier to the Vuelta and as a mark of respect and appreciation the stage today finished on their doorstep. The factory is recognized for introducing a unique 'state-of-the-art' logistics project called DAD ("Direct Automatic Delivery") which surpassed previous logistic systems such as "Just in Time" or "Just in Sequence". Through aerial conveyors, and by means of balancers, the different suppliers deliver their products exactly when required eliminating intermediate stocks to the side of the production line. This system is totally automated and delivers big subassemblies such as complete dash panels, bumpers, front and rear suspensions from the supplier of the logistic center.
This innovative system has contributed to making the Ford plant in Almussafes one of the most adaptable in auto manufacturing. Such is the flexibility that the plant produces four different models (Ford Focus 4-door and 5-door, Ford Fiesta 5-door, Ford Ka and Mazda 2) at numbers that exceed 1,800 units per day.
Just two years ago, and in what now seem happier times, Almussafes hosted a 40km time trial stage of the Vuelta. Tyler Hamilton won the race and Floyd Landis took over the race leadership. Today both riders are banned from racing as they deal with very difficult drug related situations.
In a repeat of the very first road stage from Málaga to Córdoba, Raul Garcia De Mateo Rubio (Relax-Gam) attacked almost from the gun. His move was quickly snuffed out and again just like that first day a teammate made the counter move at km 7. This time Jorge García had better luck and his effort stuck. He was soon joined by Kjell Carlström (Liquigas) and together they opened up a gap of more than five minutes. Realizing that the sprinters were in no mood to be denied their day Carlström opted out of his working partnership with García at 90kms and was soon back with the bunch. Garcia plowed on optimistically but the very fast moving bunch gobbled him up with 15kms to go.
Jorge García breakaway advantage at 6'22" ( Image © Unipublic )
Exceeding speeds of 65kmph the bunch roared into town and all the usual suspects were looking good with Milram and Quick.Step trying to control affairs. Their efforts were messed up by the final left hand curve which benefited Robert Förster (Gerolsteiner), Stuart O'Grady (Team CSC) and Danilo Napolitano (Lampre-Fondital) who finished in that order. Alejandro Valverde comfortably retained his race lead.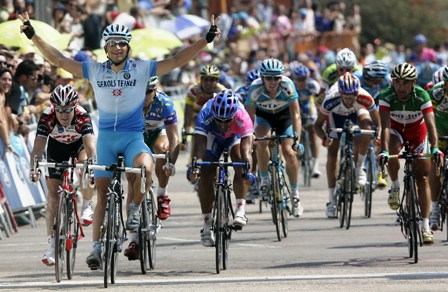 Stage win for Gerolsteiner's Robert Forster ( Image © Unipublic )
Tomorrow is a rest day in the Vuelta galaxy so I am off to "The Restaurant at the end of the Universe" where I will be imbibing Pan Galactic Gargle Blasters. Check back here on Mother Earth tomorrow for our Vuelta 'Siesta day' review.
Your roving reporter; Ford Prefect
Return to Vuelta ToC >>> Previous Stage >>> Next Stage >>> Return to GT ToC