BLOSSOMING FLOWER: the Tour of Beijing

The UCI's Globalization of Elite Cycling

The statement by the UCI: Global Cycling Promotion SA is a wholly owned subsidiary of the International Cycling Union (UCI). Its mission is to create and assist the development of new events in strategic markets for the development of cycling. Together with the City of Beijing, GCP organizes the Tour of Beijing (www.tourofbeijing.net), the first UCI WorldTour event in Asia.
The UCI WorldTour brings together the World's greatest road races. In 2013 WT schedule ends with the third edition of the Tour of Beijing (October 11-15). First contested in October 2011, the Tour of Beijing captured a blossoming Chinese interest in bicycle racing.

Tour of Beijing Map (Courtesy of tourofbeijing.net)
Stage summaries are provided below with commentary from Alan Rushton, technical consultant of the Tour of Beijing (Courtesy of tourofbeijing.net):
Stage One
Shunyi to Huairou Studio City
190.5km
Opening glory looks likely to sit with the sprinters again in 2013. One of two long stages of the 2013 Tour of Beijing at 190.5kms, the first day of racing has three opportunities for intermediate sprints and just one small climb early in the route that will not cause too much trouble to the bunch.
"The day one first stage is a rolling route with just one 3rd category climb that presents itself before the midway point. The stage is highly likely to end in a mass sprint." Alan Rushton, Technical Consultant, Tour of Beijing


Stage Two
Huairou Studio City to Yanqing
201.5km
The longest of the five stages, day two features three category 2 climbs that provide a number of opportunities for an aggressive breakaway. The final 50km slightly downhill finish does however keep same hopes alive for teams with survivors in the main group to work together to pull back escapees.
"A long stage with four classified climbs, three of them 2nd category. Will be a tough stage and selective finish."


Stage Three
Yanqing to Qiandiajian
176km
A considerably bumpy road, with riders seemingly ascending or descending all but the entire stage. Seven classified climbs shape a 176km journey that is likely to suit a small bunch of punchy climbers.
"Seven classified climbs including two 2nd category and the 820m Si Hai 1st category climb."


Stage Four
Yanqing to Mentougou Miaofeng Mountain
150.5km
Set to stand as the toughest stage in Tour of Beijing history, the stage four finish at the summit of Mentougou Miaofeng Mountain is likely to be the most decisive in the general classification battle. The final climb is preluded by an initial category one and short and sharp category 2 climb making it a tough day at the office.
"A stunning day on the road, the race passes through the Great Wall after just 22kms and over three other 1st, 2nd and 3rd category ascents before the final showdown on Miaofeng."


Stage Five
Tian an men Square to Bird's Nest Piazza
117km
A 117km journey from the historic Tiananmen square in the centre of Beijing to Olympic Park, including seven circuits of a 7.5km loop that includes the famous Bird's Nest Stadium and Water Cube aquatic facility. The final and well-known traditional stage of the Tour of Beijing is one for the speedsters.
A prestige stage that has featured in both previous editions of the Tour of Beijing. Flat, fast and ideal for sprinters."
History-
2012

Stage 1 (10-09-2012)

Tian An Men Square - Bird's Nest Piazza 117 km

Elia Viviani (Ita)

Stage 2 (10-10-2012)

Bird's Nest Piazza - Mentougou (Beijing) 126 km

Tony Martin (Ger)

Stage 3 (10-11-2012)

Mentougou (Beijing) - Badaling Great Wall 162,5 km

Francesco Gavazzi (Ita)

Stage 4 (10-12-2012)

Yanqing - Changping Stadium 165,5 km

Marco Haller (Aut)

Stage 5 (10-13-2012)

Changping Stadium - Pinggu, Century Square 182,5 km

Steve Cummings (GBr)

General Classification

Tony Martin (Ger)

Mountains Classification

Daniel Martin (Irl)

Points Classification

Edvald Boasson Hagen (Nor)
xxxxxxxxxxxx 2011

Stage 1 (10-05-2011)

Bird's Nest Piazza - Water Cube, Olympic Campus 11,3 km

Tony Martin (Ger)

Stage 2 (10-06-2011)

Bird's Nest Piazza - Men Tou Gou 137 km

Heinrich Haussler (Aus)

Stage 3 (10-07-2011)

Men Tou Gou - Yong Ning 162 km

Nicolas Roche (Irl)

Stage 4 (10-08-2011)

Yan Qing Gui Chuan Square - Shunyi Olympic Rowing and Canoeing Centre 189,5 km

Elia Viviani(Ita)

Stage 5 (10-09-2011)

Tian An Men Square - Bird's Nest Olympic Stadium 118 km

Denis Galimzyanov (Rus)

General Classification

Tony Martin (Ger)

Mountains classification

Igor Anton Hernandez (Spa)

Points classification

Denis Galimzyanov (Rus)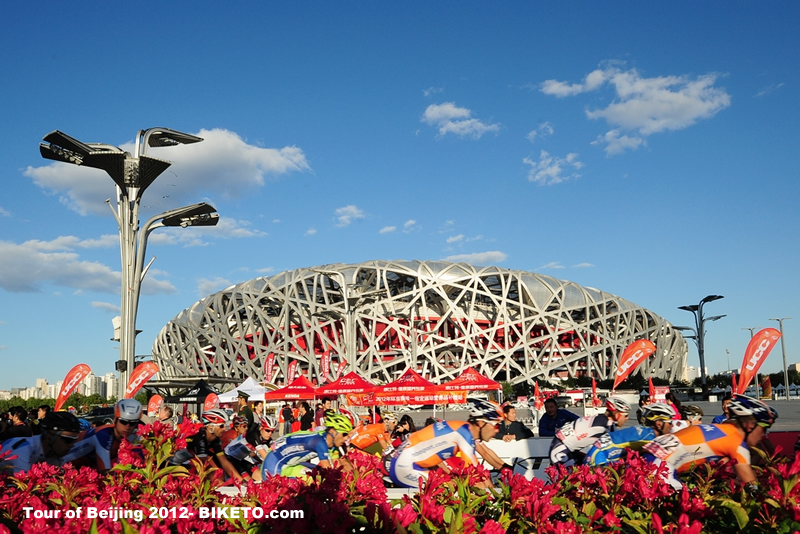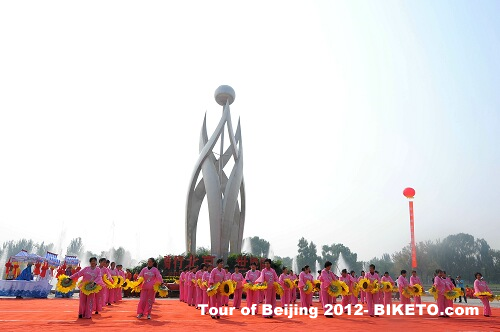 The upstart Tour of Beijing may have a long ways to go to catch up with the history and prestige of the Tour de France, but it is the 4th most watched bike race and has a huge upside. The smashing World Tour successes of the Tour Down Under (Australia) and the GP Quebec/Montreal (Canda) should be an inspiration for Beijing. And I know the more we learn about China and Chinese culture the more we will love this race. Tour of Beijing IS a beautiful "Blossoming Flower".