By Barry Boyce, CyclingRevealed
Historian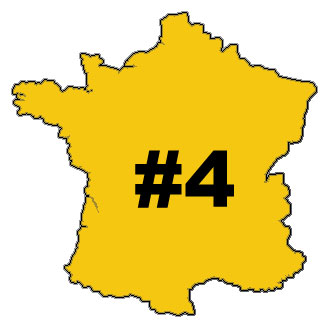 Top 25 All Time Tours #4
1924: The Tour of Suffering

SPECIAL NOTE: The 1924 Tour de France marked the beginning of a furor that would lead to changes in the Tour. Although the racing results were record setting, it was the behind the scenes activity that warranted the special place on the Top 25 Tours of all times.
Henri Desgranges, the race director of the Tour de France described his vision for the great demands of this grand race, "The ideal Tour would be a Tour in which only one rider survives the ordeal." It was this ideal that Desgranges meant to inspire the riders to greatness, not unduly restrict them with harsh conditions and strict rules enforcement.
A journalist from the newspaper "Petit Parisian" named Albert Londres described the 1924 Tour as "Le Tour de Souffrance" (the Tour of suffering). The center of the controversy in 1924 came back to defending champion Henri Pelissier. The independent thinking Pelissier had a dubious relationship with the authoritarian Desgranges and battled his inane rules on a yearly basis.
The rules very specifically banned the discarding of clothing or equipment along the race route. Somewhere near the Town of Coutances Henri shed his long sleeve, woolen jersey. When the race official confronted Pelissier mid-way through the stage, they threatened to penalize him for the rules infraction. The emotional Frenchman became enraged and immediately retired from race.
Albert Londres found Pelissier shortly after his abandonment, and the information received in the interview gave Londres enough to write the Tour's legendary "Les forcats de la route" (Slaves of the Road) article. The clamoring for change began to escalate. The stubborn Desgranges steadfastly resisted any changes to his ideal Tour. It took years to achieve the changes necessary but in 1924 the seeds were planted.
Italian sensation Ottavio Bottecchia quickly became the 1924 race favorite. Bottecchia grabbed the Maillot Jaune (race leader's Yellow Jersey) on stage 1 and kept it all the way to the finish in Paris (Parc des Princes).
Several records were set with this dominating TdF performance. This was the first victory by an Italian, and Ottavio Bottecchia was the first rider to wear the Maillot Jaune (Yellow Jersey) after every stage.
TdF 1924 Recap
| | | |
| --- | --- | --- |
| Stage and Distance | Stage Winner | Race Leader |
| | | |
| --- | --- | --- |
| Stage 1 PARIS-LE HAVRE, 381 km | Ottavio Bottecchia (Ita) | Ottavio Bottecchia (Ita) |
| Stage 2 LE HAVRE-CHERBOURG, 371 km | Romain Bellenger (Fra) | Ottavio Bottecchia (Ita) |
| Stage 3 CHERBOURG-BREST, 405 km | Theo Beeckman (Bel) | Ottavio Bottecchia (Ita) |
| Stage 4 BREST-LES SABLES D'OLONNE, 412 km | Felix Goethals (Bel) | Ottavio Bottecchia (Ita) |
| Stage 5 L'SABLES D'OLONNE-BAYONNE, 482 km | Omer Huyse (Bel) | Ottavio Bottecchia (Ita) |
| Stage 6 BAYONNE-LUCHON, 326 km | Ottavio Bottecchia (Ita) | Ottavio Bottecchia (Ita) |
| Stage 7 LUCHON-PERPIGNAN, 323 km | Ottavio Bottecchia (Ita) | Ottavio Bottecchia (Ita) |
| Stage 8 PERPIGNAN-TOULON, 427 km | Louis Mottiat (Bel) | Ottavio Bottecchia (Ita) |
| Stage 9 TOULON-NICE, 281 km | Philippe Thys (Bel) | Ottavio Bottecchia (Ita) |
| Stage 10 NICE-BRIANCON, 274 km | Giovanni Brunero (Ita) | Ottavio Bottecchia (Ita) |
| Stage 11 BRIANCON-GEX, 307 km | Nicolas Frantz (Lux) | Ottavio Bottecchia (Ita) |
| Stage 12 GEX-STRASBOURG, 360 km | Nicolas Frantz (Lux) | Ottavio Bottecchia (Ita) |
| Stage 13 STRASBOURG-METZ, 300 km | Arsene Alancourt (Fra) | Ottavio Bottecchia (Ita) |
| Stage 14 METZ-DUNKERQUE, 433 km | Romain Bellenger (Fra) | Ottavio Bottecchia (Ita) |
| Stage 15 DUNKERQUE-PARIS/Parc des Princes, 343 km | Ottavio Bottecchia (Ita) | Ottavio Bottecchia (Ita) |
Start List: 157
Finishers: 60
Distance: 5,425 km
Average Speed: 24.250 km/h
Return to the CyclingRevealed ToC