CyclingRevealed's Giro '08 Perspective
Tappa 9, May 18th, Civitavecchia to San Vincenzo, 218 km Flat Stage
Just Cruisin'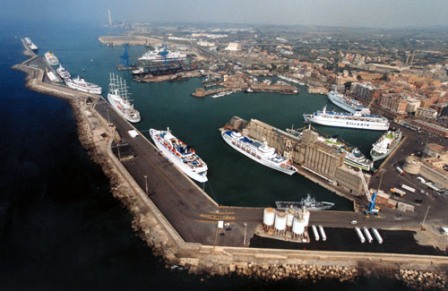 If you are ever inclined to go on a Mediterranean cruise you will probably find your sailing itinerary includes the ancient port of Civitavecchia . Major cruise lines provide a huge economical source for this city which first constructed a shipping harbor here in the 2nd Century. Today the modern Rome International Airport , which is just 50 miles (80kms) from Civitavecchia , provides the ideal link for the bustling tourist trade.
Some of the cruise tourists may have been somewhat confused by the organised chaos imposed by the Giro on this beautiful city. But for the Giro riders today marked the end of week one and most were looking forward to tomorrow's rest day. Heading North, and hugging the spectacular coastline, this almost dead flat stage was tailor made for the sprinters who have precious few such stages in this Giro.
As we have seen so often in this Giro, an attack went from the gun. Yuriy Krivtsov (ag2r) set sail but luckily for him he was spared a long, lone effort as Mickael Buffaz (Cofidis) quickly joined him. With Buffaz in 110th place at over 48 minutes back on GC and Krivtsov even further back, the peloton happily let them ride away. Predictably their lead ballooned to just over nine minutes with about 100kms to go. But then, just as predictably, the sprinters teams gently upped the pace to slowly eat into the leaders advantage. Most notable at this point was the Quick Step team doing more than their fair share for their man Paolo Bettini. What better for the World Champion, who comes from this area, than to claim a stage win on his home turf?

The day's long breakaway Cofidis (L) Mickael Buffaz and AG2R (R) Yuriy Krivtson [ Images © La Gazetta ]
Like waiters on a cruise ship, the gregario (domestiques) were the most active souls out on the road today as they scurried back and forth collecting drinks for their team mates. With 50kms to go and still nearly seven minutes back, the peloton started to show some signs of real effort. For their part the two escapees were showing somewhat more strain as the long kilometers out front were obviously starting to weigh heavy.
With a straight 3km 'drag strip' finish beckoning the pure sprinters, it became increasingly clear that Krivtsov and Buffaz were not going to reach San Vincenzo ahead of the peloton. In addition to Bettini being the local favorite for the win, McEwen, Cavendish, Zabel and Bennati were all heading the list of sprinters chomping at the bit today. Their teams were clearly instructed to orchestrate a bunch finish.
In spite of their spirited resistance, Krivtsov and Buffaz finally succumbed to the mechanical persistence of the peloton with just 15kms to go. However the catch was not as expected. On the finishing circuit a nasty little hill was used as a springboard by Bettini. He was quickly joined by Ricco and Sella. These three briefly worked together until Sella set off "on his own" to link up with the two leaders.

A late surge by Paolo Bettini is matched by Ricco and Sells [ Images © La Gazetta ]
The peloton was having none of that and very quickly it was 'gruppo compacto'. Practically the entire race hit the finishing straight together. In the (recent) old days such situations gave us the fantastic spectacle of Mario Cipollini's lead out train resisting all others as they brought the 'Lion King' to the line at warp speed.
Today the lead out trains were a mere shadow of those earlier times. However Liquigas, Milram, Quick Step and High Road all played their part over the final 10kms as they tried to impose some form of discipline in the ranks while keeping their favored sprinters to the fore.
Into the final kilometer the lead out trains disintegrated as the sprinters engaged in what looked more like a chaotic street brawl. Bennati took it in a thrilling photo finish from Bettini with everyone else just inches behind them.

Stage winner Daniele Bennati ahead of (L to R) Robbie McEwen and Paolo Bettini [ Images © La Gazetta ]
A very happy Visconti retained his 'Maglia Rosa' to savor with pride and in peace during tomorrow's rest day.
For the main contenders and the mountain goats looking forward to the next two weeks, today was a rest day, of sorts. The 'gregario' were sent up front with strict orders to ride 'piano' while their masters focussed on just cruisin' .
Return to Giro 08 ToC >>> Previous Stage >>> Next Stage >>>