CyclingRevealed's Giro '08 Perspective
Tappa 5, May 14th, Belvedere Marittimo to Contursi Terme, 203 km Rolling Stage
Who Has the Legs ?
Hard early racing in this year's Giro d'Italia continues up the Tyrrhenian (western) coast of Italy . Similar to stage 2 the hard parcours of stage 5 feature another long and hilly race course. Who will have the legs to power up the three kilometer climb (ave. 6%, max. 9%) to the finish in Contursi Terme ?
The race went off aggressively from km -0- with nothing managing to escape until the 19 km mark of the stage. Five riders, Johannes Fröhlnger, David Millar, Pavel Brutt, Luis Laverde,and Francisco Perez Sanchez (Maglia Rosa virtual, race leader on the road), broke away and built a maximum of 8'30".
When the chase began in earnest Liquigas, working for the race leader Pellizotti, and Quick Step, working for Paolo Bettini, led the way. The gap was down to 4'31" going under 35 km to go banner.
With the kilometers clicking down very rapidly a light rain help the breakaway as the peloton navigated the corners very gingerly.
Under the 20 km to go banner the road began to dry and the gap dropped to 2'41". Danilo Di Luca's LPR team began helping with the chase.
At the bottom of the final climb Francisco Perez Sanchez remained the Maglia Rosa virtual. Pellizotti's Liquigas team didn't want to relinquish the lead and drove the chase. The lead was 1'42" with the peloton closing quickly.
Under the 1 km to go banner disaster struck David Millar. With good legs he broke his chain and in disgust threw the bike over the barrier. Tinkoff's Pavel Brutt attacked with 800 meters and crossed the finish line for the stage win. After a long day off the front and Brutt still had great legs.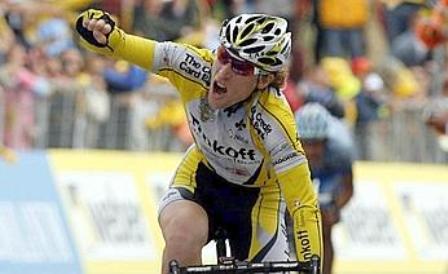 Stage winner Pavel Brutt [ Images © La Gazetta ]

Franco Pellizotti finished 8th and retained the Maglia Rosa.
Return to Giro 08 ToC >>> Previous Stage >>> Next Stage >>>