CyclingRevealed's Giro '08 Perspective
Tappa 3- May 12th, Catania to Milazzo, 221 km Flat Stage
Il Giro and the Volcano
NEWS FLASH : March 10th- A strombolian (low level) volcanic activity started this afternoon around 15:00 local time with high lava fountains and ash emission.
Mother Nature's Fireworks

( Images © Wikipedia )
In celebration of the Giro d'Italia Mother Nature put on a fireworks display near the start of stage 3. For the first 100 km of the stage the race course traverses the active Mount Etna and the riders will have a great view of the volcanic activity.
The peloton safely around Mt. Etna a six rider breakaway escaped and built a 4 minute lead. Liquigas controlled the pace of the main pack.
With breakaway gap tumbling down a huge crash on the streets of Messina (70 km to go) slowed the peloton as the Points Jersey leader Riccardo Ricco fell heavily. After a re-grouping of the peloton Liquigas continued the chase.
Gruppo Compatto , the breakaway ended with 29.8 km to go setting up a bunch sprint. A light rain was falling as the peloton navigated the technical closing kilometers. Huge crowds in Milazzo sent the rides onto the closing loop of the City.
Sprinting is not for the faint of heart. The slow overall pace of the stage made the last 3 kilometers very fast and dangerous. Under the 1 km to go banner riders were bouncing off each other on the narrow Italian finishing stretch.
Daniele Bennati came off the Milram lead out to beat Erik Zabel to the line. Franco Pellizotti retained the Maglia Rosa.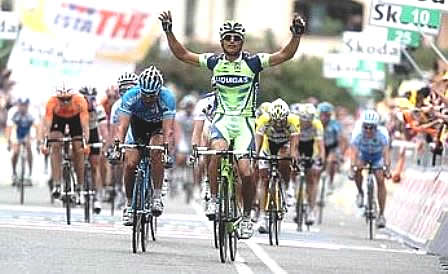 Stage winner Daniele Bennati ( Images © La Gazetta )
Tomorrow: another fast.flat stage from Pizzo Calabro to Catanzaro-Lungomare, 183 km. Come back to read our report.
Return to Giro 08 ToC >>> Previous Stage >>> Next Stage >>>