CyclingRevealed's Giro '08 Perspective
Tappa 13, May 23rd, Modena to Cittadella, 177 km Flat Stage
Troppo Facile !
Troppo Facile! (Too easy!) This is the description of the dead flat stage 13, but after a brutal '11 stage run' the Giro organizers had to give the riders a chance to rest their tired legs. In theory the contenders will be rested and ready to attack the " real start of the Giro " on Saturday's mountain stage 14. For the second day in a row sprinters will look for glory.
Mickaël Buffaz (Cofidis) and Josu Agirre Aseginolaza (Euskaltel) were the "sacrificial lambs" of the day and formed an early breakaway. Their lead topped 8 minutes before the peloton began to close the gap.
Enjoying the ride contenders and sprinters joked with moto-photographers and each other as the sprinters teams set the pace.
A light rain started falling in the City of Cittadella , making the finishing corners treacherous. Wet manhole covers and utility boxes in the final corner became slick.
Under the 15 km to go banner the time gap was down to 33 second. The breakaway was capture shortly after that and it was now time to set up for the sprint.
The race rolled through the finish line for the first time and headed out on a 6 km loop. No sprinter's team was able to take control of the flying pack until Liquigas and High Road lined out the peloton.
Bumping and barging Milram took the peloton under the 1 km to go banner. Through the final corner Erik Zabel leads out with Daniele Bennati on his wheel. From the back Andre Greipel delivered the "Manx Rocket" Mark Cavendish to the front. Cavendish wasted no time in turning on the after burners and crossed the line for an exciting stage win. Bennati was second, Euskaltel's Koldo Fernandez third.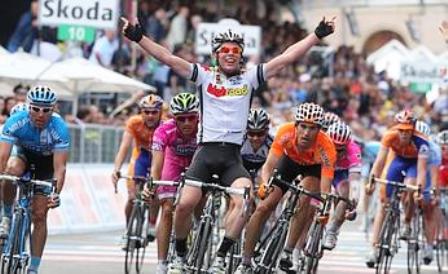 Stage winner Mark Cavendish [ Images © La Gazetta ]
Quick Step's Giovanni Visconte held the Maglia Rosa for one more day.


Return to Giro 08 ToC >>> Previous Stage >>> Next Stage >>>