By Eddy O'Rourke
Flandria Cafe and
CyclingRevealed Historian
Also see:
The Complete Renner
Specialization and the 'cross - road'
From Flandria Cafe
Fast Eddy O first wrote this article for Flandria Cafe in April 2010.

Eddy O of Flandria Cafe (a virtual wielercafe) is rapidly become one of the best Cycling History writer on the internet, if not anywhere.

To follow Flandria Cafe either go to the "Sign-in" section in the upper right corner or click on the "Follow" button in the left hand colume of Flandria Cafe. Any and all comments are welcome.

So make yourself comfortable, pour a glass of your favorite Belgian brew, and enjoy!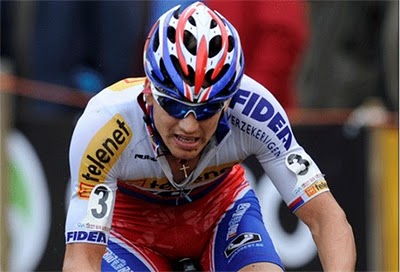 Stybar: Can he do a Roger DeVlaeminck and win in Roubaix?. (photo: Archive)
I always had a soft spot for old-school all-rounders. Zdenek Stybar: can he do a Roger De Vlaeminck and win in Roubaix?

Merckx riding everything in site, all year, and winning. A Hinault, Kelly, Mottet or Bettini there in the mix from Paris-Nice till Lombardy.

It's an affinity that even extends to other sports. Like Alpine skiing: I always admired the fact that Bode Miller can win slaloms and downhill with equal effectiveness. A counter-intuitive throwback to the likes of Toni Sailer, Jean Claude Killy, or Gustavo Thoeni. The smart money may say specialization reaps the most rewards, but I for one am glad to celebrate the exceptions. The Complete renner.
In cyclocross, conventional wisdom suggests that it's become increasingly difficult - if not impossible - to merge a full road season with effective results in de veld come winter. Jesse Anthony was just interviewed ttesting to the dangers of pursuing both here. Timmy Johnson is another cross star who's had to make difficult balancing decisions over the years. I remember back when he was starting his stint with Saunier Duval telling a group of us how he had to sacrifice his beloved cross to pursue the pro road dream.
But it's nice to believe it's still possible to be there in both realms. 2007 and 2008 World Cross Champion Lars Boom's recent attempt to take his cross domination to the road for Rabobank while less than a 'sonic boom', has led to some fantastic road results including victory in the Tour of Belgium, a Vuelta stage, and a Paris Nice stage 1 TT victory. He's been up there in top Superprestige and World Cup roses past few weeks, but not to his former cross dominance ... yet anyway.

World champion Zdenek Stybar has been in the news a lot lately flirting with a potential move from Hans van Kasteren's Fidea flemish cross juggernaut over to Patrick Lefevre's Quick Step. His new goal is to taking on both the cobbled classics and cross (here).

Jean Robic (L) and Charly Gaul (R) (photo: Archive)
The jury is out on whether he can pull it off. Kast is hinting in the Belgian press that Styby might be biting off more than he can chew (here), but that might be PR and negotiating posturing. It was well documented on Wellens en Wee that Kast has a soft spot for Styby - bringing him to Belgium, nurturing his development, even lending Styby the keys to his personal Ferrari after he won the world title.
It brings up an interesting fact though. Lars Boom aside, it's been awhile since here's been a guy who's been a consistent top level winner on both road and trail.

Back in the 50's and 60's guys did it all. Jean Robic and later Charly Gaul were often in the hunt for cross worlds titles. But OK, those were really different times.

The classic reference point for this conversation is the De Vlaeminck brothers. Erik and Roger were cross world champions and winners on the road as well. People forget that Erik de Vlaeminck was second in the Fleche Wallone, and won a Tour de France stage. And his infamous, cross-bred, body-English-acrobatic-shenanigans at the entrance to the Rocourt Velodrome famously ensured a Liege Bastogne Liege victory for kid brother Roger in 1970 that Eddy Merckx is still pissed-off about.
The De Vlaeminck Brothers Eric (L 1&2) and Roger (R 3&4) (Photo from Archive)
But Roger De Vlaeminck in particular is 'the reference'. Imagine this: After scoring his 2nd Paris Roubaix victory, he closed a full 1974 road season with victory in the Giro Lombardia, then without skipping a beat, went right into the cross season. He climaxed that cross campaign with the 1975 cross world championship, and went right into and even more stellar road season with wins in Tirreno Adriadico, Paris Roubaix, the points jersey in the Giro, an overall Tour de Suisse victory (a dominant 6 stage win performance against Merckx that Le Gitan counts his proudest), capped by a silver in the World Championship road race. Hard act to follow.

There have been other crossover cross-road stars. Two Germans in particular.

Rolf Wolfshohl was the first. He won the cross worlds in 60, 61 and 63 and scored podiums in 67, 69, 70, 72 and 73.

On the road he was 6th in the 1968 Tour de France and won a Tour stage in 1970. A compact rider, equally at home at the front in either discipline. Come to think of it Robic, Gaul, Wolfshohl all were all guys on the smaller side, great climbers. Statement of the obvious: Cross like climbing punishes excess mass.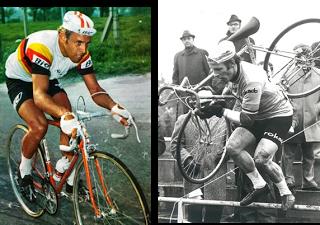 Rolf Wolfshohl (photo from Archive)
Klaus Peter Thaler was another tough and compact customer who could toggle between the two realms with equivalent deftness. Whether he was skating across a snow and ice covered Munich WK cross course, or giving a hip check to Sean Kelly in a '79 Vuelta d'Espana sprint rageuse (a duel which ended with Sean losing a fair amount of skin) Thaler's quickness and bike handling ability was second to none of his generation.

As road pro, Thaler won stages in the Tour, Paris Nice and the Dauphine. He also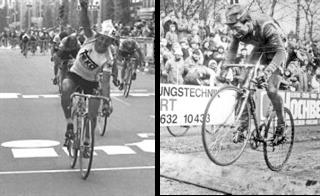 Klaus Peter Thaler (photo from Archive)
took cyclocross world titles in 1985 and 1987.

Perhaps the last of the great 'cross-roaders' was Adri van der Poel. Adri was the Joop Zoetemelk of cross: Second in the worlds' five times (!) before finally taking the title at the end of his career in 1996. Watch the video here. He also won silver in the World's Pro Road Race behind Greg LeMond on the super selective Swiss road course in 1983, outsprinted Sean Kelly to win the Tour of Flanders, as well as victories in Liege-Bastogne-Liege, Amstel Gold, and Tour de France stages.

Van der Poel loved his cross though. I recall an interview at the end of his career where he talked about how much he loved training on cross courses, the constant surges to try to drop his companions, and the racing itself. No surprise his son David is an emerging Dutch cross star. A chip off the old kassei one might say.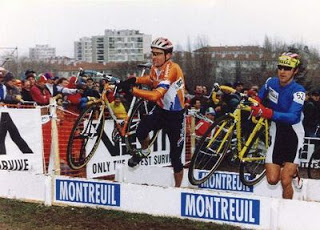 Adri Van der Poel (L) (photo from Archive)
Well Café and CyclingRevealed supporters, what do you think? Can Styby be the next Van der Poel, or is it just too specialized now? Will Lars Boom manage to win at the top level in both disciplines?