Hinault Ends an 18 Year French Drought
A very motivated Bernard Hinault entered the 1980 World Championship Road Race in Sallanches, France focused on one thing… WINNING!
The race went off with rain and cold to face a tough 13.4 km race course that included twenty times up the Cote de Domancy.
Hinault flexed his legs on the first climb of the Domancy. The attack drew an immediate reaction from the contenders and the peloton re-grouped quickly on the descent. The tone for the race was set.
On the thirteenth lap Belgian Michel Pollentier launched the decisive attack on the Domancy. Hinault easily answered the move and joined Pollentier. The breakaway became five riders strong with Gianbattista Baronchelli (Ita), Giovanni Battaglin (Ita), and Johan Van der Velde (Ned) bridging up to the leaders.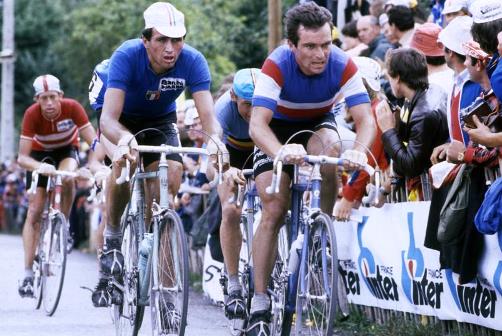 When Bernard Hinault took over the pace setting the breakaway group split. One by one Pollentier, Battaglin, and Vandervelde were tailed off the break. Only Gian Baronchelli could hold the Frenchman's wheel.
Hinault waited until the last lap to jump away from Baronchelli and ride solo into the finish to the roar of the huge French crowd. Bernard Hinault crossed the finish line to become the first French World Champion since Jean Stablinski in 1962.
WCRR August 31, 1980
268 Km [ Sallanches, France ]
1. Bernard HINAULT (Fra) 7h32'16"
2. Gianbattista Baronchelli (Ita) +1'01"
3. Juan Fernandez (Spa) +4'25"
Starters: 107
Finishers: 11
Average Speed: 35.550 km/h
Return to the Timeline ToC
Return to the Race Snippets ToC