Merckx's Last Lap Capture and Attack
Montreal, Canada hosted the first World Road Race Championship held outside the continent of Europe. Heavy favorite Eddy Merckx faced a very strong French contingent.

Frenchman Bernard Thevenet alone on Mont Royal [ photo courtesy of Ken Johnson ]
French rider Bernard Thevenet broke away solo with 100 km to the finish. Off a very hard pace a five rider group, Eddy Merckx, Herman Van Springel, Raymond Poulidor, Giacinto Santambrogio, and Mariano Martinez, slipped away from the dwindling peloton.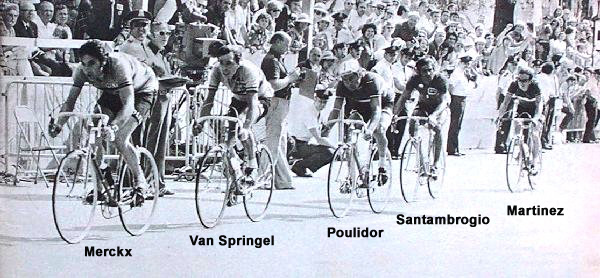 Eddy Merckx leads the hard chase [ photo courtesy of Championnats du monde de cyclisme ]
Thevenet's large lead began to fall and he was caught with 7 km to go. A determined Eddy Merckx (pictured below) attack on the final climb of Mont Réal (Mont Royal). Only 38 year old Raymond Poulidor could hold Merckx's wheel.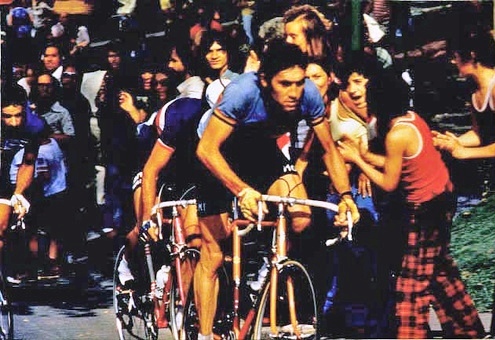 Merckx drives the pace on the final climb of Mont Royal [ photo courtesy of Ken Johnson ]
Eddy Merckx (Bel) won the sprint and earned the 1974 "Rainbow Jersey". Poulidor sprinted in for second place.
SPECIAL NOTE: The grueling pace of the race saw only 18 riders finish the race.
WCRR August 25, 1974
262.5 Km [ Montreal, Canada ]
1. Eddy Merckx (Bel) 6h52'22"
2. Raymond Poulidor (Fra) +2"
3. Mariano Martinez (Fra) +37"
Starters: 66
Finishers: 18
Average Speed: 38.194 km/h
Return to the Timeline ToC
Return to the Race Snippets ToC