Tchmil Surprises the Sprinters

Belgian Andrei Tchmil won the 1999 Milan-San Remo with a brilliant attack in the final kilometer. "After the Poggio, Erik Zabel was in the box seat and I thought that he was setting it up just like last year. I knew that we had to attack him to avoid that inevitability."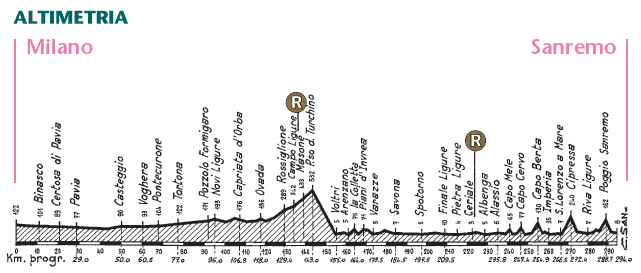 *Race profile courtesy of Internet site: www.econ-outlook.com.au/tom/cycling/palmares.html
SPECIAL NOTE: Andrei Tchmil was originally from the Russian City of Khabarovsk in Siberia. His family moved to the Ukraine and the young Tchmil entered a cycling academy in Moldavia. After the fall of the Soviet Union in 1989 he moved to Belgium to pursue a professional cycling career.
After the early breakaways were caught the peloton started the last few climbs of the famous Capi. Tifosi favorite Marco Pantani attacked on the Cipressa 25 kms from the finish. Michele Bartoli quickly answered the move and split the peloton into 3 groups. The attentive favorites were present in the front pack.
1996 M-SR winner Gabriele Colombo attacked the lead group with 8 kms to go on the Poggio. He opened a 7 second gap over the top of the climb. Onto the Via Roma in San Remo Colombo's bold move was neutralized in the final kilometer. At 600 meters the 36-year old Tchmil attacked and held off the late charge of two time M-SR winner Erik Zabel.
The prestigious victory gave Andrei Tchmil the first win of the 1999 World Cup season.
M-SR March 18, 1999
294 Km
1. Andrei TCHMIL (Bel) 6h52'47"
Starters: 193
Finishers:168
Average Speed: 42.742 km/h
Return to the Timeline ToC
Return to the Race Snippets ToC