Colombo and the Cipressa

Defending champion Laurent Jalabert has withdrawn from Milan-San Remo the night before the race. After an examination for a knee injury he and his team has decided to keep Jalabert in Spain for rehab.
The early breakaway of the day went over the summit of the Passo Turchino with a 2'45" lead. Along the Mediterranean coast Rolf Aldag (Ger) and Mariano Piccolo (Ita) held firm to a 2'12" lead going into the famed Capo climbs (Mele, Cervo, Berta, Cipressa and Poggio).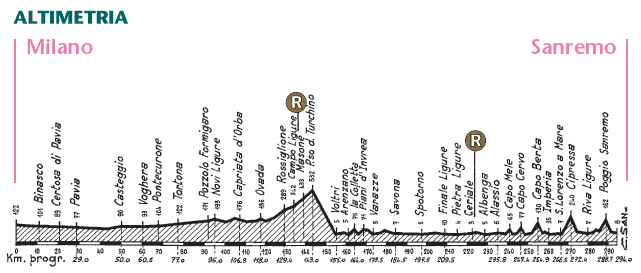 *Race profile courtesy of Internet site: www.econ-outlook.com.au/tom/cycling/palmares.html
Mapei, Motorola and Saeco led the hard chase. The breakaway was caught before the Cipressa. Gabriele Colombo (Ita) used the Cipressa to make the decisive break with 20km to go. Over the Cipressa Colombo was joined by Michele Coppolillo (Ita), Max Sciandri (GBr) and Alexandre Gontchenkov (Ukr).
As the final obstacle, the climb of the Poggio, approached the four leaders held only a few seconds lead. Over the summit the breakaway plunged off the Poggio and hit the final 3 kms flat run-in to the finish holding their slight lead.
Under the 1 km kite the 23 year old Colombo launched the winning attack and claimed the biggest victory young career.
M-SR March 23, 1996
294 Km
1. Gabriele COLOMBO (Ita) 7h00'27"
2. Alexander Gontchenkov (Ukr) +1"
3. Michele Coppolillo (Ita)
Starters: 198
Finishers:175
Average Speed: 41.995 km/h
Return to the Timeline ToC
Return to the Race Snippets ToC