Fignon's Repeat Victory in San Remo
Milan-San Remo is the first major classic of the season and provides the opportunity for riders with early season fitness to excel. Defending M-SR champion Laurent Fignon came to Milan with ambition to become the first and only Frenchman to win La Primavera in consecutive years.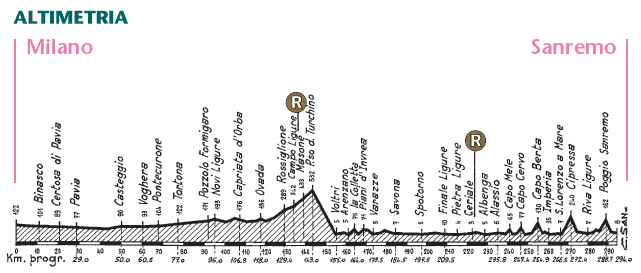 *Race profile courtesy of Internet site: www.econ-outlook.com.au/tom/cycling/palmares.html
Unusually good Italian spring weather greeted the riders in Milan. After the climb of the Turchino Pass four Italians, Roberto Pagnin, David Cassani, Marco Lietti, and the ever aggressive Claudio Chiappucci, escaped the peloton and held a 5 minute lead on the Capo Berta 40 kms from the finish.
Over the next 20 kms the breakaway disintegrated under the pressure of the charging peloton. Just after the Cipressa 24 year old Dutchman Frans Maassen attacked the lead group and escaped solo. The only obstacle remaining was the notorious climb of the Poggio. Ten kilometers from the finish Maassen remained alone. Only a super effort by Laurent Fignon kept Maassen from crossing the Poggio alone.
On the Poggio Fignon had dropped Maassen. By the summit Fignon had the race in control. Maaassen made one last charge but Fignon crossed the finish line with a 7 second advantage.
Frenchman gain his second consecutive Milan-San Remo victory.
SPECIAL NOTE: Fignon joined an elite group of riders who have won M-SR two years n a row: Constante Girordengo (1925/26), Gino Bartali (1939/40), Fausto Coppi (1948/49), Loretto Patrucci (1952/53), Eddy Merckx (1966/67 and 1971/72), and Roger De Vlaeminck (1978/79).
M-SR March 18, 1989
294 Km
1. Laurent FIGNON (Fra) 7h08'19"
2. Frans Maassen (Hol) +7"
3. Adriano Baffi (Ita) +30"
Starters: 207
Finishers: 116
Average Speed: 41.184 km/h
Return to the Timeline ToC
Return to the Race Snippets ToC