Kuiper's Third Monument
From the start the peloton rode into a strong headwind and with cold, winter-like temperatures slowly rolled across the plains of Lombardia. A two rider breakaway was allowed to build a 21 minute lead. Over the summit of Turchino Pass, the halfway mark of the race, the road began to dry and the peloton cut the lead to 15 minutes.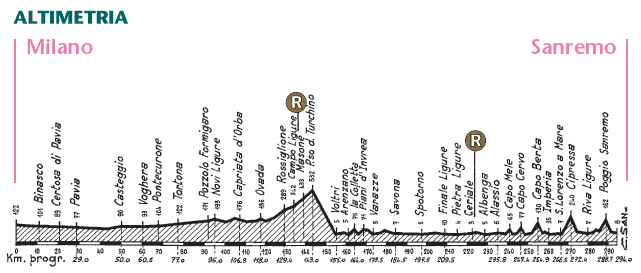 *Race profile courtesy of Internet site: www.econ-outlook.com.au/tom/cycling/palmares.html
When the breakaway hit the Mediterranean coast the headwind became gale force and the two riders' effort was doomed. The two were caught in Imperia only 40 kms from the finish. Immediately the count-attacks began.
One by one each group was chased and caught by the powerful Panasonic team until a dangerous group formed on the climb of the Poggio. Silvano Ricco attacked with 36 year old Hennie Kuiper on his wheel. Kuiper's teammate Teun Van Vliet joined the breakaway with 6 kms to go.
Van Vliet pushed a huge gear on the climb and dropped the other two. On the descent Ricco chased and held slight lead on Kuiper. The wily Kuiper descended like a maniac. He cut the corners with heroic precision and caught the two with the finish line in sight. Without a second thought Kuiper flew past Van Vliet and Ricco to take the prestigious victory.
M-SR March 16, 1985
294 Km
1. Hennie KUIPER (Hol) 7h36'34"
2. Teun Van Vliet (Hol) +8"
Starters: 230
Finishers: 128
Average Speed: 38.636 km/h
Return to the Timeline ToC
Return to the Race Snippets ToC