Promenading Peloton leads to a Tremendous Finish
March 19, 1973 the 64th edition of "La Primavera" left the center of Milan and headed onto the plains of Lombardia. After only 5 kms two Englishmen Dave Lloyd and Phil Bayton from the TIRaleigh team created the breakaway on the day. Their lead built to 3'10" while the uninterested peloton cruised behind.
The breakaway teammates took the prime at Novi Ligure and began to struggle. Over the summit of the famed Turchino pass their lead started to fall. After a plunge off the mountain their lead was 3'05" as the breakaway hit the Ligurian coast with 130 kms to go.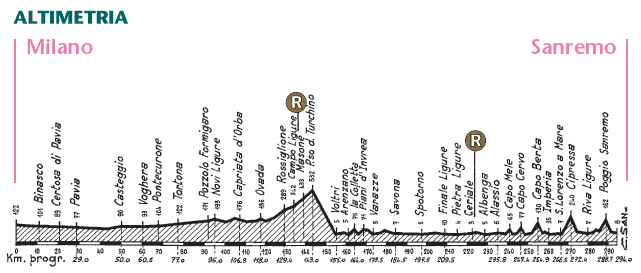 *Race profile courtesy of Internet site: www.econ-outlook.com.au/tom/cycling/palmares.html
The Capo Berta climb was the last stand of a gallant breakaway. Several punctures and a tempo increase in the peloton doomed the breakaway. With only 20 kms to go the break was caught.
The lethargic race became animated as the peloton started the climb of the Poggio with 9 kms to go. Over the summit Wilmo Francioni launched an attack. Roger De Vlaeminck was quick to answer the move as they started "hair-raising" descent into San Remo.
The race was at such high speed that a TV motorcycle slowed the leader and kept the chasers close. Felice Gimondi lead the chase as the race came back together in the final kilometer. Once caught Gimondi quickly started the final move and jumped away in a huge gear. De Vlaeminck was the first to answer the move and caught Gimondi. Onto the Via Roma De Vlaeminck powered past the tiring Italian to claim the prestigious Milan-San Remo victory.
M-SR March 19, 1973
288 Km
1. Roger DE VLAEMINCK (Bel) 6h53'34"
2. Wilmo Francioni (Ita) +2"
3. Felice Gimondi (Ita) +4"
Starters: 188
Finishers: 137
Average Speed: 41.780 km/h
Return to the Timeline ToC
Return to the Race Snippets ToC