Gallant Italian Ends a 17 Year Drought
Thursday, March 19, 1970 the 61st edition of "La Primavera" left the center of Milan and quickly entered the plains of Lombardia. The prime at Novi Ligure came at the 91km mark of the race and saw an elite group of 18 roll away from the peloton and form what would be the winning breakaway. The group included Franco Bitossi, Roger De Vlaeminck, Eric Leman, Michele Dancelli, Walter Godefroot Rolf Wolfshohl, and Rik Van Looy.
The breakaway reached the climb of the Turchino Passat high speed. Over the summit Franco Bitossi led the group and took the coveted Turchino prime. The breakaway started the descent with a 5 minute lead.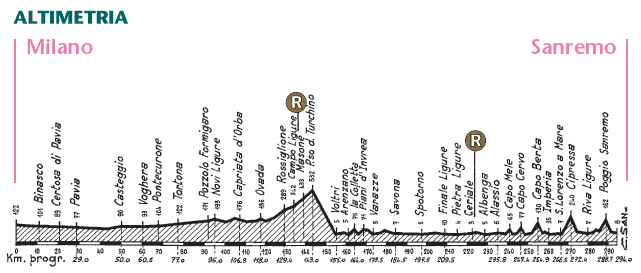 *Race profile courtesy of Internet site: www.econ-outlook.com.au/tom/cycling/palmares.html
As the race hit the Ligurian coast at the 155km mark of the race the peloton was single file and had the time gap down to 4 minutes.
After the prime sprint in Loano, won by his Molteni teammate Carlo Chiappano, Michele Dancelli broke away solo and made his bid to win the race with 70 long kilometers to go. The rest of the group seemed unconcerned.
On the climb of the Capo Berta with 30kms to go the break came to life. Walter Godefroot attacked and was followed by Eric Leman. The effort cut the Dancelli's lead to 2'30" with only 20km remained.
With a 2'15" lead on a solo chaser Eric Leman over the summit of the Poggio the inspired Italian realized the race was over. Michele Dancelli rolled down the Via Roma in San Remo to win Milan-San Remo and become the first Italian winner since Loretto Petrucci in 1953.
M-SR March 19, 1970
288 Km
1. Michele DANCELLI (Ita) 6h32'56"
2. Gerben Karstens (Hol) +1'39"
Starters: 238
Finishers: 151
Average Speed: 43.976 km/h
Return to the Timeline ToC
Return to the Race Snippets ToC