The Emperor Adds La Primavera
The usual Italian spring weather, cool wind and rain, greeted the riders in Milan . By the time the race hit the Ligurian Coast light wind and warmer temperatures prevailed.
An early nine rider breakaway collected all the cash premes along the plains of Lombardy and descended the Turchino with a 3'40" lead.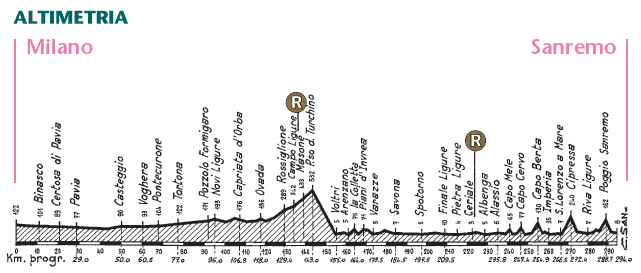 *Race profile courtesy of Internet site: www.econ-outlook.com.au/tom/cycling/palmares.html
The breakaway group dwindled but held their advantage until the Capo climbs late in the race. On the Capo Mele the chase group was closing when Belgian Jozef Planckaert and Frenchman Rene Privat escaped the breakaway.
An inspired Privat dropped tiring Planckaert on the climb up the Capo Berta . An elite chase group formed, which included Rik Van Looy and defending M0SR champion Miguel Poblet, but Privat's solo effort persisted. By the top of the final climb, the Capo Verde, only 4 km from the finish Privat was caught.
Onto the Via Roma in San Remo the ' Emperor of Herentals ' Rik Van Looy unleashed his sprint and took the prestigious Milan-San Remo victory. Miguel Poblet finished second ahead of Frenchman Andre Darrigade.
Van Looy's winning average speed set a new record of 42.178 km/h, beating Poblet's 1957 average of 40.754 km/h.
M-SR March 19, 1958
282 Km
1. Rik VAN LOOY (Bel) 6h41'09"
Starters: 215
Finishers: 140
Average Speed: 42.178 km/h (New Record)
Return to the Timeline ToC
Return to the Race Snippets ToC