Coppi's Third and Last M-SR Victory
Campionissimo Fausto Coppi started 1949 in grand style by winning his third and Milan-San Remo.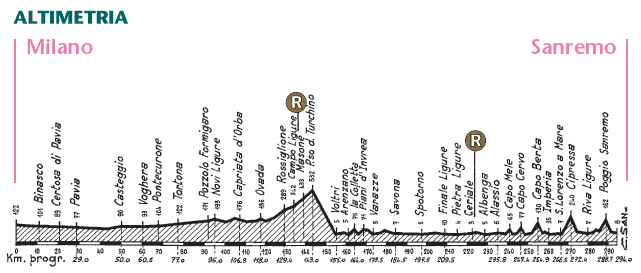 *Race profile courtesy of Internet site: www.econ-outlook.com.au/tom/cycling/palmares.html
The race left Milan with at a very rapid pace, fueled by a strong tailwind. Two track riders, Erminio Leoni and Ferdinando Terruzzi, broke away soon after the start and collected the lucrative "sprint premes" along the plains Lombardy. The dou was caught before the climb of the Passo di Turchino. Neither would make it to San Remo.
Over the summit of the Turchino the elite began to attack. Vito Ortelli escaped with 3 others and started the final selection. Defending champion Fausto Coppi chased hard with Fiorenzo Magni and Alfredo Martini. Once a solid breakaway had formed the race flew along the Liguran coast.
Frenchman Edouard attacked on the Capo Mele. Coppi answered, catching and passing Fachleitner. On the Capo Berta with 32 km to the finish Coppi was alone. Aggressively Coppi increased his lead and crossed the finish line in San Remo to claim the victory.
SPECIAL NOTE : Fausto Coppi finished with a new record average of 39.397 km/h. This beat the previous best set by Giuseppe Olmo (38.517 km/h) in 1938.

M-SR March 19, 1949
290.5 Km
1. Fausto COPPI (Ita) 7h22'25"
2. Vito Ortelli (Ita) +4'17"
Starters: 202
Finishers: 118
Average Speed: 39.397 km/h
Return to the Timeline ToC
Return to the Race Snippets ToC