Girardengo's First Milan-San Remo Victory!
Italiy's first Campionissimo Costante Girardengo came into San Remo with 1917 Milan-San Remo winner Gaetano Belloni. The powerfull Girardengo sprinted away from Belloni with 200 kms. to go for the 1918 Milan-San Remo victory.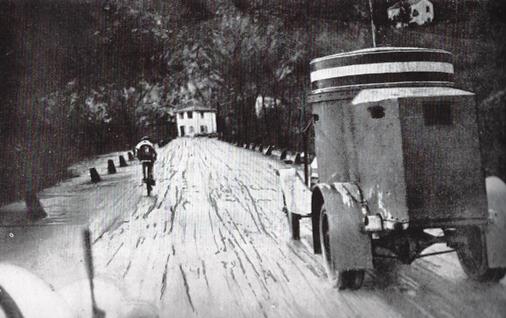 Girardengo rode over horrible roads during his 200km breakaway

SPECIAL NOTE: Costante Girardengo became the first Campionissimo after M-SR's race director Eugenio Colombo coined the nickname for the Italian superstar in 1918.
M-SR April 14, 1918
287 Km
1. Costante GIRARDENGO (Ita) 11h48'00"
2. Gaetano Belloni (Ita) +13'00"
3. Ugo Agostoni (Ita) +59'00
Starters: 33
Finishers: 7
Average Speed: 24.279 km/h
Return to the Timeline ToC
Return to the Race Snippets ToC