Tchmil and Celestino Celebrate Victories
The leaves were falling in the mountains of Northern Italy for the 93rd edition of the Giro di Lombardia. This year Lombardia was the final race of the 1999 World Cup, which featured a battle for the championship between 36 year old Andre Tchmil and Dutchman Michael Boogerd.
Cold and cloudy weather greeted 225 riders as the race set off from the center of Varese. Numerous attacks kept the pace high until Italian Sergio Barbero escaped on the climb of the Selvino. New World Champion Oscar Friere used his superior fitness to join Barbero in the breakaway.
The duo gain 1'45" before Barbero fell on the slippery descent of the Forcella di Bura. A small chase group joined the breakaway. Mirko Celestino, a local rider racing on many of his training routes, shattered the breakaway group with 43 kms to go. The final selection was formed when Pascal Richard, Danilo Di Luca, Eddy Mazzoleni, and Oscar Camenzine caught Celestino on the Berbenno climb. World Cup leader Andre Tchmill marked Boogerd's every move in the first chase group.
On the final climb in Bergamo 1998 winner Camenzine attacked with Di Luca and Mazzoleni and dropped a tiring Celestino. An inspired chase by Dimitri Konyshev caught Celestino on the descent to the finish line on the Piazza Matteotti. The two chasers caught the hesitating trio with 600 meters to go.
Without further hesitation Mirko Celestino used his momentum to attack. Through the final corner the Italian drove the lead out and held off a late charge by Di Luca and Mazzoleni for the victory.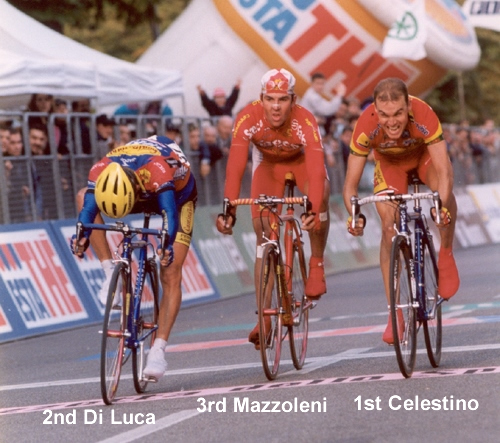 SPECIAL NOTE: Andre Tchmil sprinted to a 14th place finish, one place in front of rival Michael Boogerd, to secure the 1999 World Cup victory.

GdL October 16, 1999
262 Km,Varese-Bergamo
1. Mirko CELESTINO (Italy) 6h21'50"
2. Danilo Di Luca (Ita)
3. Eddy Mazzoleni (Ita)
Average Speed: 41.170 km/h
Lomb 2000
Return to the Timeline ToC
Return to the Race Snippets ToC