Tafi's Late Surge
Italian Andrea Tafi made a late breakaway to win the prestigious 250 km Giro di Lombardia.
Tafi used a late surge on the climb of the Colle del Gallo on the outskirts Bergamo. The attack left Fabian Jeker (Sui) and Belgian Axel Merckx over two minutes behind at the finish.
Most of the race was dominated by Michael Andersson (Swe), who broke away early and led the race for 170 kms. He was caught by an elite chase group of 10 riders including Laurent Jalabert, Daniele Nardello, Davide Rebellin and Gianni Bugno.
The leader rode together cautiously until Tafi surged on the Colle del Gallo and went over the summit alone. He hammered the last two kilometers and crossed the finish line 2'19" ahead of the remainder of the breakaway.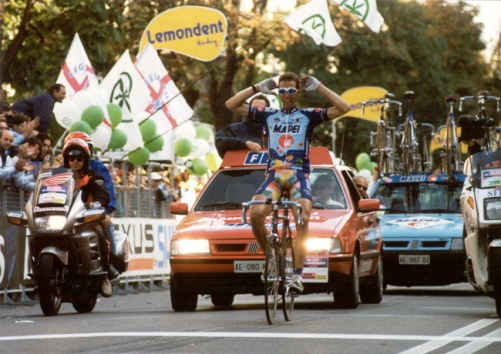 GdL October 19, 1996
250 Km,Varese-Bergamo
1. Andrea TAFI (Ita) 5h51'46"
2. Fabian Jeker (Sui) +2'19"
3. Axel Merckx (Bel) +2'22"
Starters: 176
Finishers: 48
Average Speed: 42.642 km/h
Return to the Timeline ToC
Return to the Race Snippets ToC