By Barry Boyce, CyclingRevealed Historian
Bartoli Wins with Gusto
Defending champion Michele Bartoli won the 1998 Liège-Bastogne-Liège for the second time with gusto!
Russian Evgeni Berzin rode in a solo breakaway for over 50 kms and had more than one minute lead on seven chasers. Bartoli forced the pace and attacked at 15 km mark from the finish. The Italian caught and rode straight past Berzin on the climb of Sart-Tilman. Laurent Jalabert tried to join Bartoli in the chase but could not. Bartoli was the strongest rider and nobody could hold his wheel.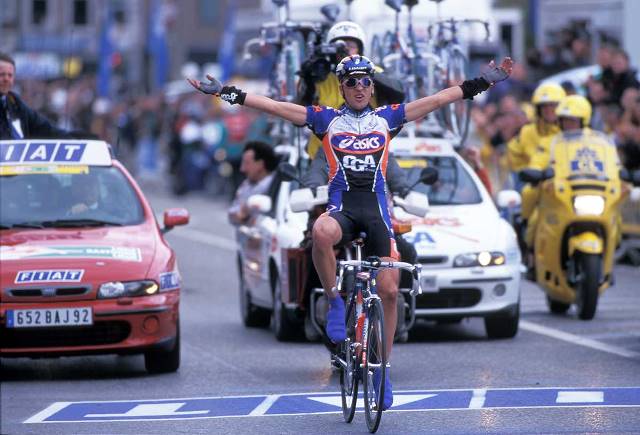 Michele Bartoli successfully won his second Liège-Bastogne-Liège championship in a row.
L-B-L April 19, 1998
265 Km
1. Michele BARTOLI (Ita) 6h37'29"
2. Laurent Jalabert (Fra) +1'13"
3. Rodolfo Massi (Ita) +1'21"
Starters: 193
Finishers: 102
Average Speed: 40.077 km/h
Return to the Timeline ToC
Return to the Race Snippets ToC