By Barry Boyce,

CyclingRevealed Historian
Gianetti Slips Away
Pre-race favorite Laurent Jalabert (Fra) finished fourth after making an aggressive bid 85 kms from the finish. The Frenchman broke away on the climb of the Stockeu. Gianetti, Bugno, and Bartoli chased and caught him before the final climb. Two attacks by Gianni Bugno and one by Michele Bartoli on the final climb were unsuccessful. When Gianetti went away with less than five kilometers to go, no one responded. Mauro Gianetti (Sui) escaped from a 4-rider breakaway on the final climb to win the 1995 Liege-Bastogne-Liege by 15 seconds. Gianni Bugno (Ita) outsprinted Michele Bartoli (Ita) to win the field sprint.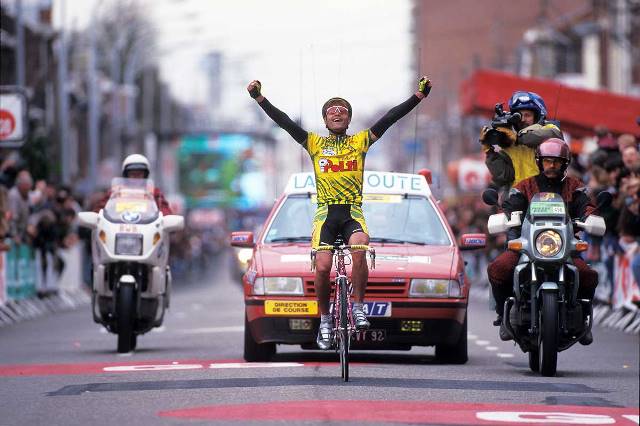 L-B-L April 16, 1995
261.5 Km
1. Mauro GIANETTI (Sui) 6h38'25"
2. Gianni Bugno (Ita) +15"
3. Michele Bartoli (Ita)
Starters: 193
Finishers: 51
Average Speed: 39.311 km/h
Return to the Timeline ToC
Return to the Race Snippets ToC