"King" Kelly Delivers!
The pressure to win one of cycling's monuments is huge but sponsorship pressure is even greater. Hardened Irishman Sean "King" Kelly came to the Dutch PDM team with high expectations and a solid 1989 Classics schedule. Hired to win numerous Classics, Kelly struggled in the early spring. The Irishman felt the pressure at the start line in Liege. One hundred eighty-eight riders left the Palais des Princes for the 1989 edition of Le Doyenne. The tension in the peloton was evident as the average speed was a slow 30 km/h.
The race became more animated on the climb of the Houffalize where Bob Roll (USA) caught and passed Eddy Planckaert. He broke away solo for over 30 kms. When Roll was caught on the Wanne, the race looked to the new climb, the very steep La Chambralles. Aussie Phil Anderson started the hostilities that shattered the peloton.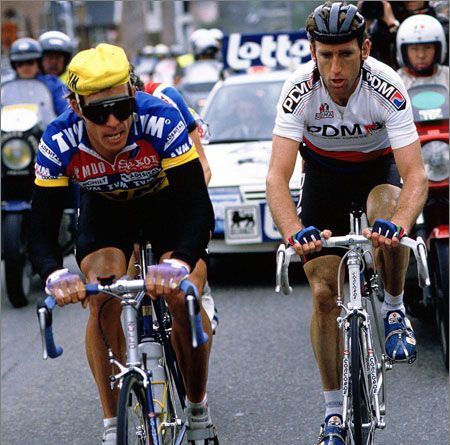 The margin at the La Redoute was 23 seconds and over the top of the climb a chasing group of 28 reconnected with the leaders. PDM now took control of the race with Steven Rooks and Gert-Jan Theunesse driving the pace.
The breakaway group held a slim lead as the final 2 km finishing circuit began. Pedro Delgado jumped first and lead out the sprint. Anderson and Kelly reacted quickly and caught the Spaniard. Coming off two strong wheels Kelly would not be beaten. Sean "King" Kelly delivered the prestigious Liege-Bastogne-Liege victory to his sponsor PDM.
L-B-L April 16, 1989
267 Km
1. Sean KELLY (Ire) 7h23'40"
2. Fabrice Philippot (Fra)
3. Phil Anderson (Aus)
Starters: 188
Finishers: 118
Average Speed: 36.243 km/h
Return to the Timeline ToC
Return to the Race Snippets ToC