Bugno by a Millimeter
The famed Oude Kwaremont was the launching pad for the first successful breakaway in 1994. After a hard crash by German Olaf Ludwig delayed half the peloton, Johan Capiot set the pace up the Kwaremont. Capiot escaped with Guido Bontempi, Dario Bottaro, Fabio Rosciali and Eddy Schurer. With the peloton shattered an eighteen rider group eventually formed at the front of the race.
The fast pace across the cobbled climbs was taking its toll. With 28 kms to go Guido Bontempi opened up the race. Quickly Johan Museeuw and Andrei Tchmil caught and countered the move. Franco Ballerini, Capiot, and Gianni Bugno joined the leaders. As the climb of the Muur de Geraardsbergen approached Johan Capiot took the lead. Over the Muur de Grammont Capiot faded and was dropped by the Museeuw group.
Up the Bosberg in the closing kilometers Ballerini tried an unsuccessfully attack. Riding aggressively Bugno countered the move, but Museeuw and Tchmil brought the group back together.
Into the finishing straight in Meerbeke/Ninove Gianni Bugno outfoxed Belgian sprinter Johan Museeuw and crossed the finish line a millimeter in front of the Belgian. The Italian claimed the prestigious Ronde victory.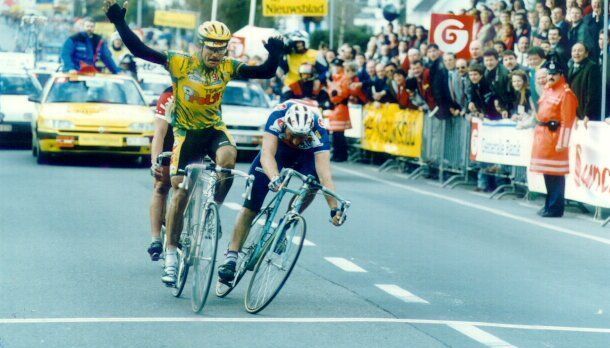 Bugno by a Millimeter over Museeuw [photo courtesy of CRVV]
Flanders April 3, 1994
268 Km, St. Niklaas to Meerbeke/Ninove
1. Gianni BUGNO (Ita) 6h45'20"
2. Johan Museeuw (Bel)
3. Andrei Tchmil (Ukr)
Starters: 199
Finishers: 99
Average Speed: 39.671 km/h
Return to the Timeline ToC
Return to the Race Snippets ToC