CyclingRevealed's First Impressions '07
Tour de France 2007 Introduction
The Golden Thread
In his novel 'A Tale of Two Cities' Charles Dickens describes Lucie Manette as a 'masterful weaver of the golden thread' in her efforts to bind together the people most important to her life; her father, her husband and a loyal friend in Paris. The story encompasses Paris and London and beseeches the people of England to right social wrongs before the country sinks into a bloody revolution as France had done 75 years earlier.
For over one hundred years the organizers of the Tour de France have woven their 'golden thread' which has become the fabric of the largest and most famous sporting event in the world. A little of that thread has been used to create that most recognizable of all sporting icons, the Yellow Jersey. But more importantly the Tour has always been an international affair even during the years when the race has not ventured outside France . If Charles Dickens were alive today he would be greatly gratified to see London and Paris once again bound by a 'golden thread'. For three weeks the peoples of Europe , and indeed across the world, will be focused on a spectacular sporting phenomenon. From what will be an incredible start in the heart of London until the race finally rolls up the Champs Elysées in Paris we will experience memorable sporting achievements.
Who Cares Who Wins!
The Special Air Service Regiment ( SAS ) is the principal special forces unit of the British Army. It is a small, elite and very secretive institution ranked by many as one of the best special forces units in the world which today serves as a model for similar units fielded by other countries. Their official motto is 'Who Dares Wins' but in Great Britain many believe that their real credo is 'Who Cares Who Wins'! The meaning behind this is that it is the event (the action) and not the outcome that really matters.
In the world of Grand Tours cycle racing we seem to be moving towards 'who cares who wins'. Heras in Spain , Basso in Italy and Landis at last years Tour have all been disgraced. It is often said that in the fog of war the details are lost. For a year now the daily race details of the 2006 Tour de France have been lost in the fog of the Landis affair. Prior to 2006 we had seven consecutive years of mostly predictable action as Lance Armstrong created his own place in Tour history. Last year we entered the race with no clear favorite. Every day we were treated to spectacular and memorable racing and in fact many described the race as the best since World War II. For the millions of spectators who lined the race route and watched the race on TV or the internet it was not so much about a dominant champion imposing his will on the race as being captivated by about 200 talented athletes all racing their hearts out.
Go back and read our CyclingRevealed First impressions of the Tour de France 2006 and be reminded of the non-stop action every single day of the 2006 Tour. It is very sad that the Landis affair has swamped our collective memory but in years to come the 2006 race will assume it's rightful place in tour history.
We go into the 2007 Tour with much the same feelings as last year. There is no overwhelming favorite as the sport wallows in the rip tide of drug scandals. Every rider in the Tour has been obliged to sign a declaration stating that they are drug free and not currently implicated in a drug investigation. Should they prove otherwise then they will forfiet a year of their salary on top of any other sanctions. So again we hope that we will obsever a 'clean' Tour. This utopian dream may not occur but at least the sport is making serious attempts to move in the right direction.
High on everyones list to succeed this year is Alexander Vinokourov. Back in February we featured 'Vino' and placed him on our list of favorites. Read the story here: The Fearless Attacker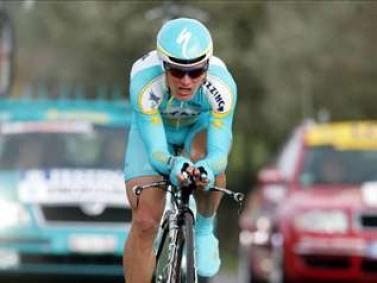 Great expectations Tour 07 for Vinokourov
In peering through the annual 'fog of hype' we are extremely happy to see rider number 148 on the start list; Rik Verbrugghe (Cofidis - Le Crédit par Téléphone). Rik is not a favorite to win the 2007 Tour but for many years he has been a solid performer with some spectacular wins which at one time included the fastest ever Grand Tour individual time trial. The last time most people will remember seeing Rik was on Stage 14 of last years Tour on the road from Montélimar, in northern Provence, to Gap, in the foothills of the southern Alps. Verbrugghe was away with five other riders when, with 40kms to go and about 5m 30s advantage, disaster struck. Verbrugghe misjudged a fast curve, slid and then catapulted over the road side crash barrier. Behind him David Cañada hit his brakes hard and slid out. Kessler rode over Cañada's back wheel and then somersaulted over the crash barrier. In a split second the promising looking break was decimated and three riders were left to ward off the bunch. Amazingly Kessler soon got back on his bike but sadly Verbrugghe (fractured thigh) and Cañada (broken collarbone) were consigned to the ambulance. The sight evoked memories of Joseba Beloki's crash along these very same roads a couple of years ago.
| Tour Stage 14, 2006. A horrendous crash that looked like the end of Rik Verbrugghe's racing career | A healthy looking Verbrugghe is ready for Tour 07 |
| --- | --- |
Now 33 years old, Verbrugghe has obviously had a hard time getting back to Tour form. But it is tough and talented riders like him that make up the backbone of the Tour peloton. So as we report on the Tour don't focus so much on who is winning but more on the really exciting action from riders who possibly think 'who cares who wins'!
Tune in every day right HERE to capture CyclingRevealed's First impressions of the Tour.
Other CyclingRevealed Tour '07 feature articles:
Phenomenal - Le Grand Depart 07 Prologue feature
The Fearless Attacker Vinokourov feature
Welcome to Kent Tour Stage 1 review
Return to ToC >>>