CyclingRevealed's First Impressions '07
Rest Day, July 24th, In Pau
And Then There Were Two
It has been a long and somewhat confusing Tour for many fans with respect to the battle for the Yellow Jersey. The race started with Fabian Cancellara (CSC) claiming the Golden Fleece with a brilliant Prologue time trial win in London. Against all odds he kept it much longer than most people expected. He finally succumbed on Bastille Day when the young and almost unknown Linus Gerdemann (T-Mobile) climbed his way to both a stage win and the Yellow Jersey over the Cat 1 16km Col de la Colombière (1618m).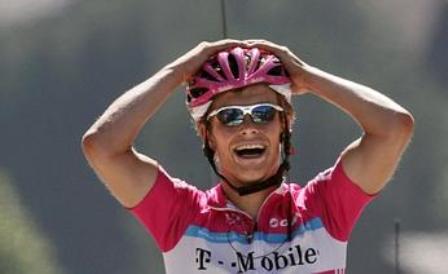 Stage Winner 7 Linus Gerdemann [ Image ©: www.gazzetta.it ]
This was stage 7 and the much hyped list of GC favorites had yet to reveal their intentions. The next day on the road to Tignes, GC hope Michael "chicken legs" Rasmussen conquered the six climbs, including three Cat 1's, to win by 2 minutes 47 seconds over his nearest adversary. The Yellow Jersey was his and he has held it ever since. Most seasoned observers expected Rasmussen (with the infamous 2005 Tour TT on his resume) to be easily trounced on Stage 13 by the TT specialists who amongst them included most of the Tour hopefuls. To his credit Rasmussen produced not only a brilliant ride but one where he shocked everyone by catching GC favorite Alejandro Valverde for three minutes. Alexandre Vinokourov won the TT while Rasmussen managed to contain the time gains made by GC hopefuls Evans, Leipheimer, Sastre and co.
On the road to Tignes, Michael "chicken legs" Rasmussen conquered the six climbs and Yellow Jersey was his!
Next day the Pyrenees arrived and now Rasmussen was back in his beloved territory. Together with Alberto Contador (Discovery) he demolished all of the other GC hopefuls on the climb up to Stage 14's finish atop the monstrous Hors Categories Plateau-de-Beille. Contador won the day but Rasmussen recovered time that he had lost in the time trial to other GC hopefuls.

Contador wins stage 14 [ Image ©: www.gazzetta.it ]
And then there were two. If Stage 14 was not enough evidence to confirm Rasmussen and Contador as the two key contenders for the Tour, then Stage 15 emphatically proved the case. On the final climb of the day, the Col de Peyresourde, a series of blistering attacks by Contador proved that Rasmussen was the only rider on the same level as him. In what we described as 'magnificent carnage' the battling duo extinguished the last remaining hopes of the other GC contenders.

Contador's Stage 15 attacks on the Peyresourde [ Image ©: www.gazzetta.it ]
From Stage 7 and up until stage 14 'the experts' were all focusing on Rasmussen's impending downfall under pressure from the GC hopefuls like Evans, Sastre, Kloeden, Valverde and Leipheimer. But none of these guys, who are all great riders, displayed either the body language or spoken words that make a great champion stand out. Rasmussen, right at the beginning of the Tour, stated that he was not interested in another Polka Dot Jersey. His goal was Yellow, an objective that some commentators viewed as a joke. For his part Alberto Contador has been efficiently building on his promise as a future Tour champion for some years now. He revealed his burning ambitions after the Stage 13 TT which put him into 3 rd place on GC. His comment to the media was simply "I want more". Both Rasmussen and Contador are talking the talk and walking the walk. The rest are sucking their back wheels the best they can!
Tomorrow, Stage 16 is as big as any Tour mountain stage gets. It will be a classic battle between two men and their brilliant teams that could well decide the final outcome of this Tour. 189 riders started the race in London . There are now 160 left who between them have contested 15 stages and covered 2,746kms in a little under 70 hours. They have 5 stages and 801kms to race until they ride over the finish line in Paris . Big kms and a lot of riders, but now we can say – and then there were two.
Return to ToC >>> Previous Stage >>> Next Stage >>>