CyclingRevealed's First Impressions '07
Rest Day in the Alps, July 16th
Breeding Legends
Three million people can't be wrong! This was how many people are said to have lined the roads of London and Kent in England just to catch a fleeting glimpse of the Tour. Like it or not, the Tour is by far the biggest thing in cycling. In fact it is one of the biggest things in all sport. A World Championship Jersey is nice but a yellow Jersey has a lot more clout. This famous icon of sport is known all over the world and it symbolizes the very pinnacle of elite sport. After Armstrong won the World Road Championship did he become a household name in his own country? No. After multiple Yellow Jersey's he was known by "Joe public" everywhere and started to be seen on prime time TV chat shows and with Hollywood 's 'glitteratzy' at events like the 'Oscars'!
For those of us close to the sport it is hard to remove ourselves to a more distant viewing position. Our observations are too informed. It is therefore perhaps a little shocking to say to avid cycling fans that this year's Tour is populated by very timid riders. Since 1903 the Tour has spurned larger-than-life champions whose names resonate down through the decades and strike awe into our collective memories. It is for this very reason that when it comes to the Tour our expectations should be totally different to those of any other cycle race. We want to see champions that rise above everyone else and have an aura that one day will become legend.
On a day to day basis the 2007 Tour has thus far delivered spectacular racing with some incredible individual performances. Choose any day from our daily race reports and you will find racing at its elite best. For example, on Stage 1 everyone was astounded that Robbie McEwen managed to get back from a late stage crash and blitz the field in a blaze of speed in Canterbury.

Robbie McEwen [ Image ©: www.gazzetta.it ]
But stage wins and success in the various jersey competitions will always take a back seat to a GC victory. Last year, with Armstrong finally retired, we saw a wide open Tour and it seemed that the list of pretenders to the 'throne' was endless. As a result we saw some of the best Tour racing in very many years.
Now, still wallowing in the Landis affair, we are again looking at a wide open race. But apart from a few brave souls like Linus Gerdemann, Michael Rasmussen and the unfortunate Michael Rogers and Alexandre Vinokourov, those much touted names favored to battle for this year's Yellow Jersey appear to be a very timid bunch. Yesterday's mountain stage to Tignes was the perfect stage for real Tour champions to demonstrate their claim to cycling immortality.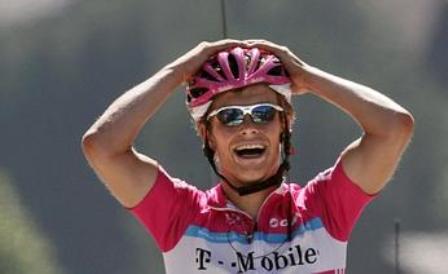 (L to R) Gerdemann, Rasmussen, and Rogers [ Image ©: www.gazzetta.it ]
While Rasmussen was blazing a glorious path to Tignes, the "favorites" were playing tactical waiting games. French RR Champion Christophe Moreau was with leading personalities and summed up the situation perfectly at his post-race press conference when he said, "Something had to be tried. To watch the big leaders waiting and watching each other upset me. I was the only one to take risks".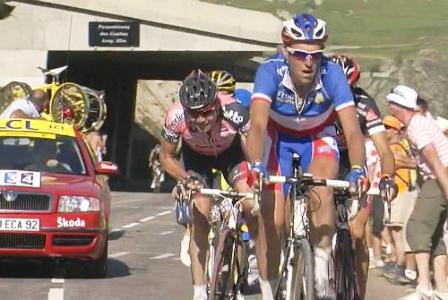 Christophe Moreau leads the chase group [ Image ©: www.gazzetta.it ]
"Take risks", that is what real Tour champions do. Often calculated and sometimes impetuous based on feelings during the heat of battle. Cadel Evans, considered to be a real candidate for the Yellow Jersey, was riding in the Moreau group. After his ride yesterday he commented to the media that "it is very difficult if everyone is riding against each other tactically". Well Mr. Evans, if you consider yourself to be the next great Tour champion do something about it. Rise above the rest!
Based on what we have seen so far we are in for a real treat for the next two weeks. We will have a great Tour champion in Paris (probably not a pre-race favorite) and each day will be a gem of cycle racing. But when it comes to the Yellow Jersey battle, fans should expect everything. The winner becomes the global ambassador of our sport. They need to be a lot more than just a good bike rider; they need to be made of the stuff that breeds legends.
Check out our daily reports HERE

"Who do we fancy for Yellow in Paris?" Well, Michael Rasmussen of course!"
Return to ToC >>> Previous Stage >>> Next Stage >>>